It may seem like one of the most popular shows on the planet, but it can be suggested that The Walking Dead is dying a slow death.
Though the zombie television series returned to near-record high ratings in the US for the resolution of the Negan cliff-hanger in its season seven premiere in October, things are beginning to take a nosedive for the show.
Viewer rating highs are beginning to be a distant memory as the zombie apocalypse series faces some troubling news; fans of the AMC series have dropped swiftly from 17 million viewers to 11 million in just four weeks.
Ratings have steadily plummeted week-to-week, with the first dip emerging with episode two The Well which slid to 12.5 million. The following three episodes all hovered between 11m and 12m viewers – the biggest decrease in audience totals since 2013 – according to Entertainment Weekly.
Did the brutal deaths of fan-favourite characters Glenn Rhee (Steven Yeun) and Abraham Ford (Michael Cudlitz) put Walking Dead fans off? Despite ratings still being an impressive number for a show in its seventh season, it's a question that show bosses may be asking themselves.
Producer Greg Nicotero doubts that the show deaths have had an impact on viewers. He said recently: "I've been shocked at the turn of events on [Game of Thrones]," Nicotero said. "But you know what? I still love it. And I'm still committed to seeing where that story goes.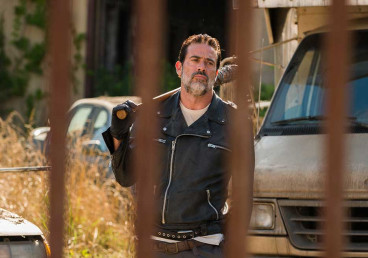 "So I think it's a knee-jerk reaction that people have, because they care about these characters. That's a tribute to every single actor on our show that has perished. It's unfortunate that people want to take a negative spin on it," he added.
But what do the viewing public really think about the show's seventh season?
One viewer recently tweeted: "Every time I think of starting the walking dead I see yet another fkn spoiler why can't y'all keep your sh*t to yourselves".
Another remarked: "ready to pay out for cable so I can watch The Walking Dead. I'm loosing my sh*t being left out of the loop and dodging spoilers."
Music reporter and Walking Dead fan Alicia Adejobi commented on the idea of easily obtainable spoilers ruining it completely for viewers. She said: "I doubt having readily available spoilers online is the reason for The Walking Dead's declining ratings this season.
"The show is based on a long-running comic so spoilers have been around since season one, episode one. As a viewer of season seven, I believe the low ratings are most likely due to the slow pace, lack of action and pressure to live up to the explosive season premiere episode."
Movie guru and former Walking Dead enthusiast Amy West added: "I always used to watch The Walking Dead when it aired in the UK, but during this season, I've found myself unenthusiastic to tune in and often opted to put something else on instead.
"For me, the show seemed to reach its peak in the season six finale/season seven opener and it just can't match that now and the slow-burning story lines aren't necessarily what viewers want to see after so much action-packed drama.
"Also – they may be back together by now as I'm admittedly not up to date – but I'm not a fan of the ongoing disjointed plots. I want to see the gang together!" she continued.
The Walking Dead airs on Sundays at 9/8c on AMC and on Mondays at 9pm on FOX.