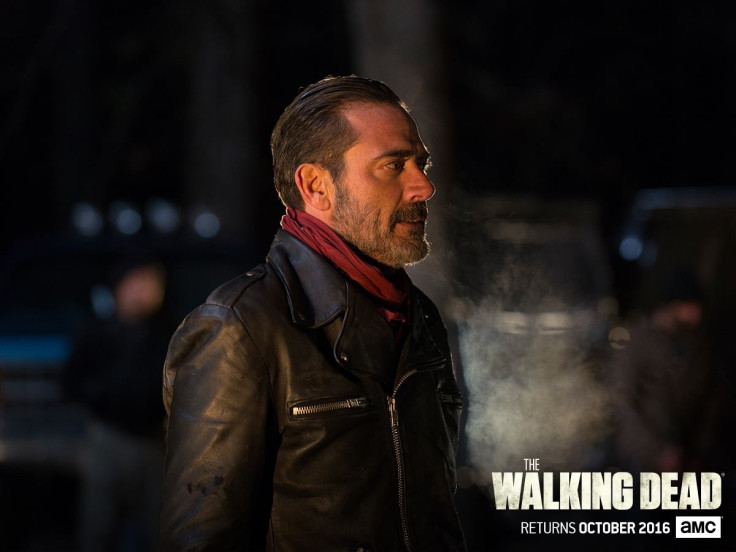 There is no escape from Negan's terrifying rage for Rick Grimes and his members from the safe zone of Alexandria in The Walking Dead season 7 as AMC has promoted Jeffrey Dean Morgan to a series regular. Based on Robert Kirkman's comic series, the zombie horror thriller has left fans guessing about what is to come after the season 6 finale.
The infamous death scene did not reveal the identity of the victim, whose skull was smashed by Negan's infamous baseball bat, Lucille. There does not seem to be an end in sight for the notorious Savior leader, unlike the end of cannibal villain Gareth in season 5. Negan is expected to spread his tentacles of terror among other survivors.
As previously predicted by show creators and producers, Negan's terror will have a deep impact on Rick. However, to tackle the crisis, AMC has also promoted Tom Payne as a series regular, which means Jesus will be there to offer moral guidance and support to a heartbroken Rick.
Other characters, Austin Amelio (Dwight) and Xander Berkeley (Gregory) are also series regulars now.
The news about Morgan has come just at the right time as Screenrant reported a major spoiler about Negan's role in the Walking Dead comic book. The recent issue of the graphic comic book by Kirkman has delivered a major twist that may change the plot of the zombie series forever, the website claims.
In the Walking Dead #156, according to the website, Negan escapes from Alexandria and meets the Whisperers (a group of survivors who use the zombie skin mask as cover to roam free in the world of the infected) and soon becomes one of their trusted members.
But the regular injustice, abuses, assaults and rapes in the group terrifies him and in a bid to save a woman from two Whisperers, he kills them. However, this enrages Alpha, the leader of the group, who has a huge argument with Negan. But later she is killed by the Savior leader.
The trailer and premiere date will be revealed during the San Diego Comic-Con.