The Walking Dead Season 5: Zombie Apocalypse Marathon Live Stream, 'City of The Dead' Plotline Revealed by Producer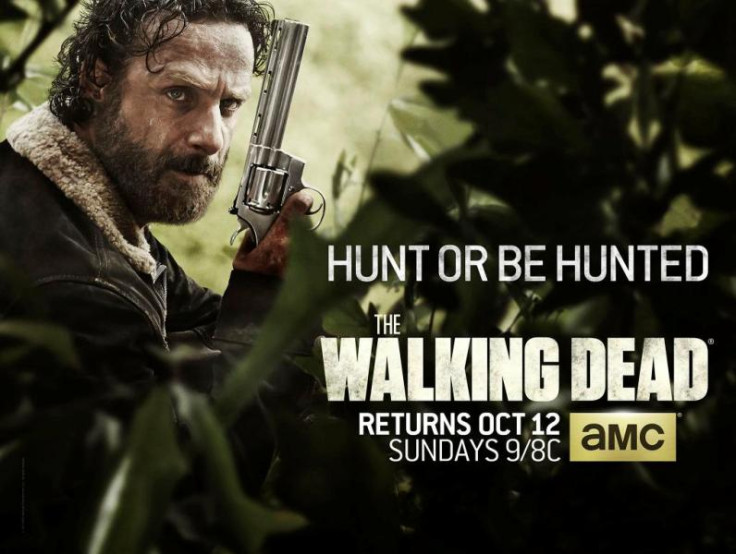 The Walking Dead season five premiere is just round the corner and there's no better time to binge-watch all four seasons of the show.
Fans can do just that with AMC's Zombie Apocalypse Week Marathon starting this evening (Monday, October 6) at 7.00pm ET/6.00pm CT (11pm BST). The Walking Dead marathon will feature every single episode of the popular zombie drama, to date.
"Start by watching the series premiere, Days Gone Bye on Monday, October 6 at 7/6c pm, and then continue Tuesday through Friday with episodes from seasons one, two and three airing in order every night starting at 7/6c pm," states the AMC Blog.
Then on Saturday and Sunday, the stakes are raised with a mega-showing of episodes from seasons three and four starting Saturday at noon/11c and continuing right up to the season five premiere on Sunday, 12 October.
Click here for a full schedule of The Walking Dead on AMC. You can also watch the entire marathon online via live stream here. (To watch full episodes, you must have a cable provider that supports AMC's full episode service and AMC as part of your cable package).
Meanwhile, executive producer Gale Anne Hurd revealed some key details on the upcoming season's plotline (via Entertainment Weekly).
"The show has spent a lot of time in primarily rural settings. But you're never going to find the cure to the zombie apocalypse in the sticks," said Hurd.
"Now with the group embarking on a mission, they have to re-enter what we call the City of the Dead. There are many cities of the dead that they'll have to encounter to complete their mission. So not only does it make it more difficult because the number of walkers, but also there are more hiding places in which their human antagonists can lurk. So however stiff and difficult the stakes have been up until this season, now they've been raised even further."
The Walking Dead season five premiere episode, No Sanctuary, airs Sunday, 12 October at 9 pm ET on AMC.
The official synopsis of the premiere episodes reads:
"The true motives of the Terminans come to light; Rick and the others end up in a situation."
© Copyright IBTimes 2023. All rights reserved.