After losing Glenn and Abraham in the premiere episode, The Walking Dead season 7 ended with another major death. And it appears the creators are coming up with unique twists to keep fans entertained.
Warning: The article contains spoilers from TWD season 7 finale
The episode titled, the First Day of the Rest of Your Life, featured few major moments, including a shocking death and an epic war. Sasha enters Negan's dreaded den and knows that her death is imminent, but before breathing her last she plans to avenge Abe's death.
In the finale, Negan wants to use her as a pawn against the Alexandrians but Sasha has other plans. She opts to commit suicide and attack the Savior leader instead, and does exactly that. Anticipations were high that Sonequa Martin-Green's character will eventually die in the series as she has taken up a lead role for CBS All Access' Star Trek: Discovery.
The actress thinks her character's death was 'perfect' and 'poetic' in the AMC zombie thriller. "It just felt so right," she said during the Talking Dead. "It felt so complete. It was quite poetic when I found out how it was going to happen. Because I felt like it was the perfect end to my story, the perfect culmination of my life. I felt like all of my roads had led to that moment of getting to that place of complete selflessness. It felt perfect."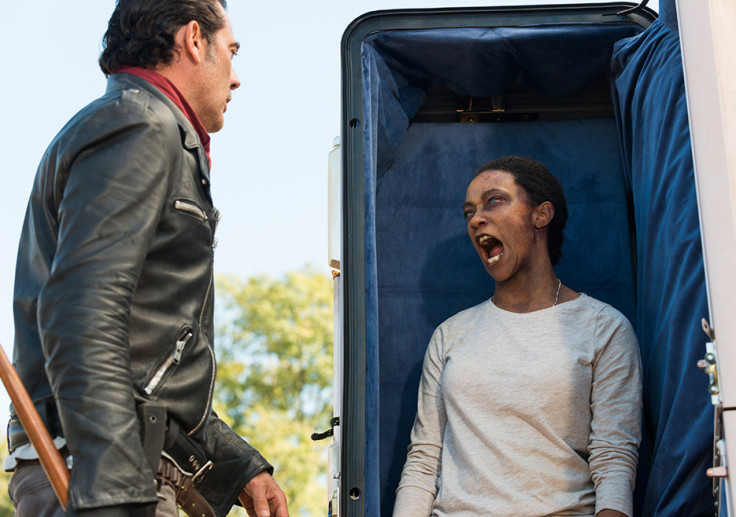 Sasha's zombie death was a rip-off from Robert Kirman's comic book, but there the character was Holly, the other woman in Sasha's life. Martin-Green believes her character's end in the show was beautiful because even in death she had her warrior spirit intact.
However, zombie Sasha was unable to take revenge from Negan after he opened the coffin as she was immediately stopped by his henchman.
"In this beautiful way, it was the first time we had ever rooted for a walker," she explained about her great sacrifice during Talking Dead. "Also, it was beautiful because the way I saw it, that warrior spirit lives on. That even in death, I was still going to fight, because I had realized my purpose. It had been revealed to me. Everything before that had been self-preservation, self-defense mechanisms, basically self-obsession."
The show is set to take an interesting turn with The Walking Dead season 8 as the group war is still raging on. AMC is yet to declare the airdate of its hit zombie series' next season.