The Walking dead season 7 will air its penultimate episode on Sunday (26 March) on AMC in the US. But ahead of the episode, the description of episode 15 titled Something They Need was leaked and a major cliff-hanger related to an attempted suicide was revealed along with the identity of a mystery man.
TV Geek Talk leaked the episode in its "preview" and narrated almost all the twists ahead. According to the report, Sasha will turn suicidal. In episode 14 titled The Other Side, she deliberately locked herself inside Negan's Sanctuary prompting Rosita to leave the place.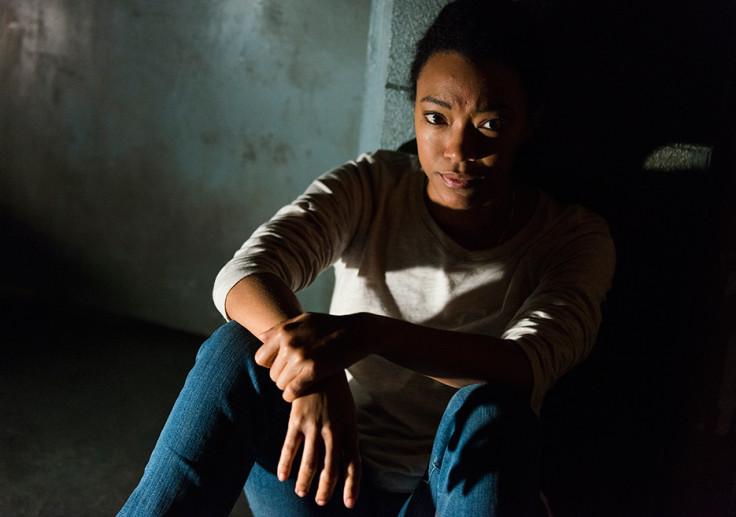 AMC released a new image of Sonequa Martin-Green that reveals Negan has indeed captured Sasha. According to the leaked report, Martin-Green's character will be attacked by one of the Savior men inside the dark cell, but Negan will save her by killing him.
However, being the infamous leader he is, the notorious Savior chief will let the dead body turn into a walker right before Sasha's eyes, giving her the choice to either kill the zombie or let it savour her alive.
The website also revealed an encounter between warrior women from the seaside and Rick Grimes after Tara informs the Alexandria Safe Zone leader about their existence. Rick is currently searching for alliances and considering the weapon-rich group's gorilla acts of survival and it will be interesting to see how their meeting concludes.
Last but not the least, the mystery person's identity, whom Rosita met after Sasha locked her outside the Sanctuary, will be revealed. Initially fans guessed the silhouette was that of Daryl, but according to TV Geek Talk, Rosita will take the person inside Alexandria and Rick will not like him.
Click here to watch the episode online via live streaming on the network's official website. You can also watch it by downloading the AMC app for iOS, Apple TV and Android.
The show will air on AMC at 9pm ET in the US on 26 March a day earlier than its UK airtime, which is scheduled for Monday (27 March) at 9pm on Fox.