Walmart allegedly used Lockheed Martin tech to spy on employees prior to union protests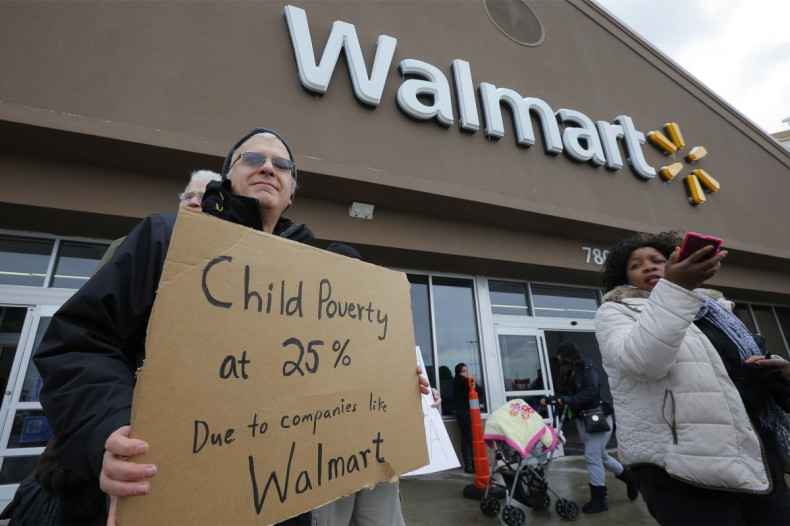 Walmart is facing allegations that it uses sophisticated spying technologies developed by defence contractor Lockheed Martin to spy on its employees' social media accounts and blogs, in particular prior to union strike action on Black Friday in 2012.
Workers' rights advocate group Organization United for Respect at Walmart (OUR Walmart) is suing the US retail giant for allegedly retaliating against employees and disciplining them for joining protests in June 2013 to campaign for better wages. OUR Walmart claims the retailer's cheap prices also affect its 2.2 million employees, some of whom earn such low wages that they require government benefits just to be able to afford essentials such as clothing and food.
The union, which led strike action against Walmart yet again over the Black Friday 2015 weekend, alleges in over 1,000 pages of emails, reports and testimony that the retailer deployed a special "Black Friday Delta team" to spy on employees' Twitter accounts and even created an intricate map of the routes a bus caravan protest took during a week-long shareholder meeting in June 2013, according to documents handed to Bloomberg Businessweek.
The documents, which were only released in mid-October after all hearings for the case were concluded, state Walmart worked with the FBI's Joint Terrorism Task Forces on a map showing the predicted routes for five Ride for Respect bus caravan protests after the Feds discovered members of Occupy might join the protests outside Walmart's company headquarters in Bentonville, Arkansas.
"With some assistance from LM [Lockheed Martin] we have created the attached map to track the caravan movements and approximate participants," Walmart's risk programme senior manager wrote to colleagues in an email seen by Bloomberg.
Collecting "negatively charged" sentiments
Emails sent between members of Walmart's Black Friday Labor Relations Team detailed all the strike action posts they had discovered from OUR Walmart members on social media: "Work stoppages, mic checks, 1 post of a human chain, social media calls for boycotts and Sponsor a Striker for Black Friday food card program," while another email sent from a member of the team to Walmart's Analytical Research Center asked: "When does Lockheed provide more analysts?"
Lockheed Martin has an open source big data software tool called LM Wisdom that uses algorithms to analyse freely available information on the internet from social media and newspaper feeds in multiple languages including Arabic and Farsi to detect trends in sentiments and influence.
"This type of content has the power to incite organised movements, riots and sway political outcomes. LM Wisdom turns this data into actionable intelligence for our customers," Lockheed Martin writes on its website.
Neither Lockheed Martin nor Walmart have confirmed that Wisdom is being used by the retailer and the defence contractor refused to comment on the story. However, Walmart said: "We are firmly committed to the safety and security of our 2.2 million associates as well as the 260 million customers we serve each week.
"It's important to remember that Walmart is the largest company in the world with 11,500 stores in 28 countries. Unfortunately, there are occasions when outside groups attempt to deliberately disrupt our business and on behalf of our customers and associates we take action accordingly."
During the hearings, Walmart repeatedly emphasised that it did not retaliate against workers who protest and that managers are specifically trained in TIPS, meaning they are not to "threaten, interrogate, promise or spy". The final decision on the case between OUR Walmart and the retail giant will be released at some point in 2016.