A wanted man has been arrested after a plane bound for Heathrow Airport was diverted to Stansted instead under RAF escort.
On Tuesday (7 February), two RAF fighter jets were scrambled to escort Pakistan International Airlines (PIA) flight PK757 to Stansted after a security alert was triggered at around 3pm GMT.
The airline said the RAF Typhoons were launched after a "vague security threat" was made in a phone call while Essex Police said the flight was diverted due to reports of a "disruptive passenger". The force added that the disturbance, on the Airbus A330 flying from Lahore to Heathrow, was "not believed to be a hijack situation or terror matter".
The Pakistan International Airlines aircraft landed safely. Upon arrival it emerged that one of the passengers was a man wanted by the Metropolitan Police. It is understood that the man was not the cause of the disturbance on the flight.
The arresting officers were due to pick the man up at Heathrow but were forced to travel to Stansted to arrest him. The Met Police said the 52-year-old was detained on suspicion of fraud.
In an emailed statement seen by IBTimes UK, the Met Police said: "A passenger on a flight from Lahore to Heathrow on Tuesday, 7 February, was due to be arrested on arrival at Heathrow Airport. Following the diversion of the aircraft, the man was arrested at Stansted Airport."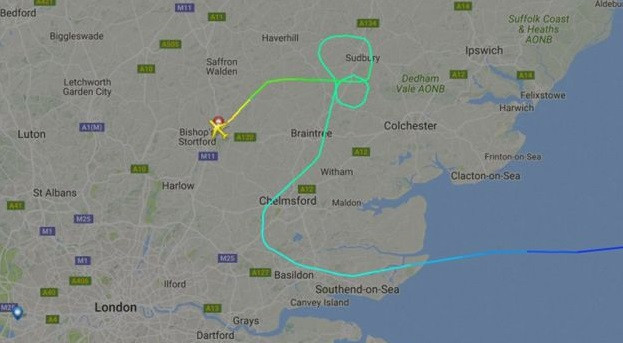 As the situation unfolded, the civilian aircraft was held on a remote stand away from the airport. Stansted is the default airport when such security threats are dealt with by authorities and despite the incident, the airport operated as usual.
An Essex Police spokesperson said earlier in the day: "There is no disruption to the ongoing operation of Stansted Airport. This is not believed to be a hijack situation or terror matter."
Pakistan's Civil Aviation Authority tweeted a statement following the incident. It said: "All passengers onboard are safe and being looked after by PIA's local management.
"Passengers will be provided surface transport to London. For the return flight efforts are underway to ensure least inconvenience to passengers."