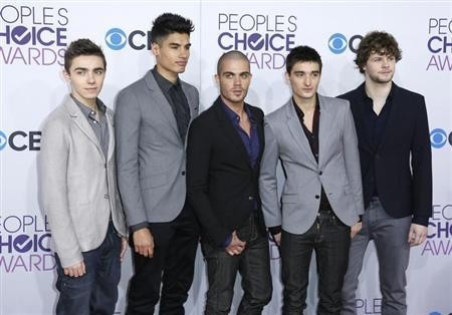 The Wanted star Max George has revealed the group would like to settle their feud with rival boyband One Direction with a good, old-fashioned punch-up.
The singer invited Harry Styles, Louis Tomlinson, Liam Payne, Zayn Malik, Niall Horan to step into a boxing ring to bring an end to the animosity and raise money for charity.
"We would like a boxing match - them against us. It would be brilliant for TV, and I have no problem with it at all," George told the New York daily News.
"If they have got an issue, why don't we actually do something financially - like make some money for charity and blow off some steam in the boxing ring? I don't think there is a better idea other than that I don't want anyone to get savagely hurt."
The two groups have been embroiled in an on-going feud since One Direction's Malik alleged that George had contracted a sexually transmitted disease in a Twitter post in December 2012.
What Makes You beautiful hitmaker, Malik was subsequently challenged to a face-to-face at the Jingle Ball in New York by George. The encounter never happened.
Although George is confident the fight would bring an end to their rows, not all of The Wanted are convinced.
Fellow bandmate Jay McGuiness, believes that a charity brawl between the two bands could potentially do more harm than good.
"We haven't spoken. I think no matter how much you try to avoid it, people are always gearing up for, you know, what do you think of them, what do they think of you," McGuiness said.
"It's going to be really hard to ever have a real friendship, and we don't see them enough for that. We're not going to lose any sleep over it."