Warwickshire claimed their first County Championship title since 2004 with a game to spare after relegating Worcestershire following an emphatic victory by an innings and 202 runs at New Road.
Ahead of their final Division One match of the season against Nottinghamshire, the Bears took just 35 overs to take the remaining eight wickets required to win the title on day three, quickly breaking the resistance of Daryl Mitchell (42) before Moeen Ali (72 not out) attempted to prolong the agony.
But Chris Wright took 4 for 65 to finish with nine wickets in the match; taking the final wicket of last man Alan Richardson and sparking scenes of wild jubilation among a Wawrickshire squad who suffered final day pain last season in losing the title to Lancashire.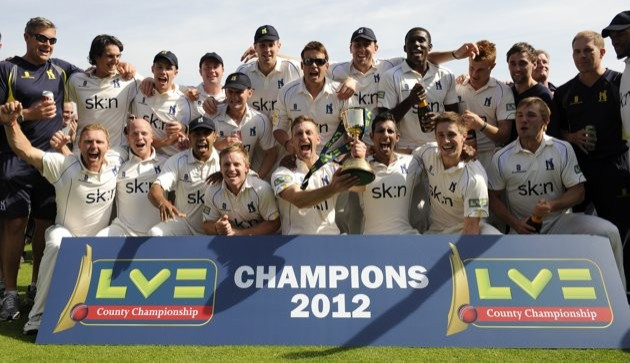 "It's fantastic. Last year, as much as that hurt, it's what pushed us this year," captain Jim Troughton told Sky Sports.
"From that moment down at the Rose Bowl, when we didn't get those wickets and we felt completely gutted, we made it our responsibility to push on in the winter and make sure we came back and win it with a game to spare.
"It's amazing how it's happened exactly like that - it couldn't have been written any better. I'm absolutely over the moon."
Troughton's side were frustrated by Hampshire pair Michael Carberry and Neil McKenzie on the final day of last season as Lancashire claim their first individual title for 77 years with an eight-wicket win at Somerset.
Having picked up six wins this season, Warwickshire have cruised to the title with a game to spare ahead of Sussex, whose slow start to the season, where they picked up one win in their first seven games, was decisive in their title challenge.
"It couldn't have gone any better for us on the final day," Troughton added. "It's been a great effort all season and deserved reward for all the work we've put in since last year.
"We said in the dressing room at Southampton a year ago 'let's use that disappointment to fuel us for next year to do it with a game to spare' and it's amazing the way it's worked out that way.
"It's a proud moment for me to get my hands on that trophy again. I probably took it for granted when we won it in 2004, when I was a youngster, but this win means the world to me.
"Every single man in that dressing room has contributed. We've got a big squad and everybody has put their hands up with bat and ball. It's not just not the ones wearing the whites."