'Peeping Tom' Washington Rabbi Barry Freundel sentenced to 6.5 years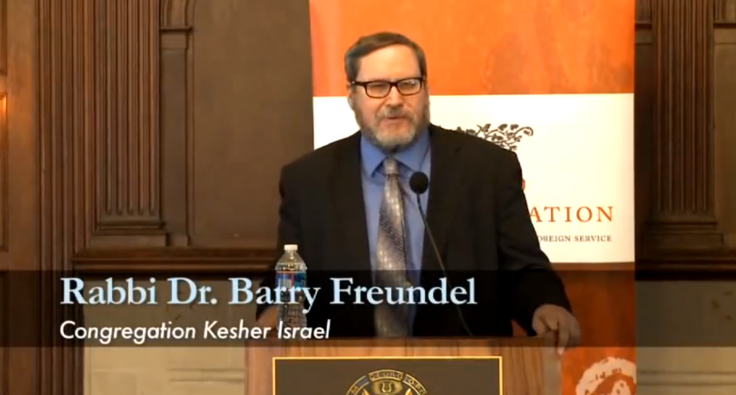 US Rabbi Barry Freundel has been sentenced to six and a half years in prison after pleading guilty to secretly videotaping dozens of women as they prepared for a ritual bath, or mikvah.
Sentencing Freundel on Friday (15 May) at Washington DC Superior Court, Senior Judge Geoffrey Alprin said: "You repeatedly and secretly violated the trust your victims had in you and you abused your power."
The Orthodox rabbi was also ordered to pay more than $2,000 (£1,270) in fines.
Freundel, 63, was arrested in October and charged with voyeurism after filming six women at the Kesher Israel Synagogue in the suburb of Georgetown.
Prosecutors who reviewed his computer said many more women preparing for the ritual bath had been secretly recorded.
Freundel, who headed the Kesher Israel congregation for 25 years, apologised to his victims before he was sentenced on Friday.
"I was wrong. I am sorry. I did terrible things. I make no bones about it. I was in a terrible place," Freundel said, according to the Washington Post.
Prosecutors sought 17 years after Freundel pleaded guilty in February to 52 counts of misdemeanor voyeurism. Each count carries a maximum penalty of one year in prison.
He was given 45 days for each count, and will serve the sentences successively.
Prosecutors said that the veteran rabbi had recorded 100 more women, but they were not part of the criminal complaint due to the statute of limitations.
'He took our freedom. Now he has to live without his'
During the hearing, some of the victims spoke about the impact his crimes had on their lives.
Emma Shulevitz, one of the women who agreed to be named, said: "He took our freedom and now he has to live without his."
The local Jewish community was horrified by the breach of privacy, which took place as the women changed and prepared for the ritual, in which they immerse themselves in water for purification.
Some members have stopped using the ritual baths, while others suffer nightmares and fear their status as Jews has been called into question, the Washington Post reported.
© Copyright IBTimes 2023. All rights reserved.