The 100 season 3 returns with new episode this Thursday, where Bellamy and Clarke try to save Raven Reyes from Alie's control. Episode 11 is titled, Nevermore, which airs on 14 April at 9pm EST on The CW.
The official synopsis reads as follows:
In the previous episode,Octavia told Bellamy about Lincoln's death, and punched his brother, and said, "You are dead to me." To make it up to her, Bellamy betrayed Pike and the commander met his much-deserved death by the Grounders, but Octavia was not ready to forgive her brother as yet.
Back in Arkadia, Alie is successful in her mission in controlling Raven and Abby, but Jasper managed to escape from the camp just in time and informed Clarke about the entire incident. The episode ended with Clarke noticing that her mother was not herself, as Abby told Jaha and Alie that it is time to move on to phase two. The upcoming episode will find Clarke leading the fight to save the people of Arkadia from Alie and her plans.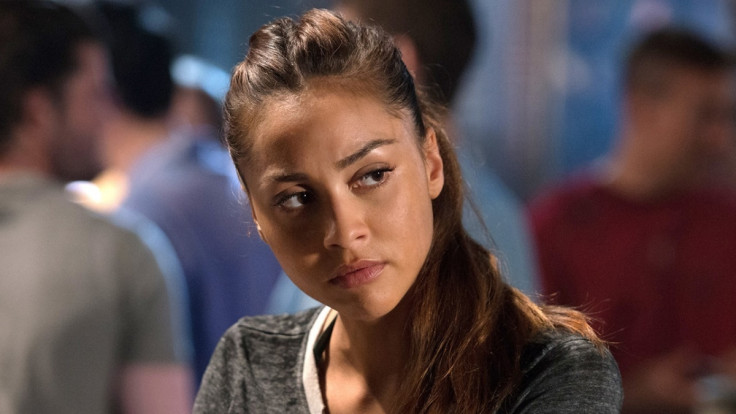 Meanwhile, Lindsey Morgan who plays Raven spoke to TV Guide about her character's transformation and said, "Raven's kind of a villain right now. Raven's always trying to do the best she can for the group. Aside from the couple of mistakes she's made, she's always been a protagonist. So it was really interesting brutally fighting against my castmates, against characters and people I've spent three years constantly trying to save."
"I was really interested in that, and also interested in the acting exercise of, "what do you do when you're mind-controlled by a supercomputer?" Like, that's never happened to me before in life, so I love the challenge it brings," Morgan added.
A promo for the episode shows Raven tied down in a cave as she yells, "Where the hell am I. Let me go." Clarke asks Bellamy, "How do we get that thing out of her head?" Alie then says, "You know too much. I can't let them have you."
Then we see Clarke with a knife in her hand, trying to pull out Raven's chip as she admits, "This is our only choice." Can Bellamy and Clarke save Raven? Or will the show kill off another character? To know more do not miss The 100 season 3 episode 11 this Thursday on The CW.