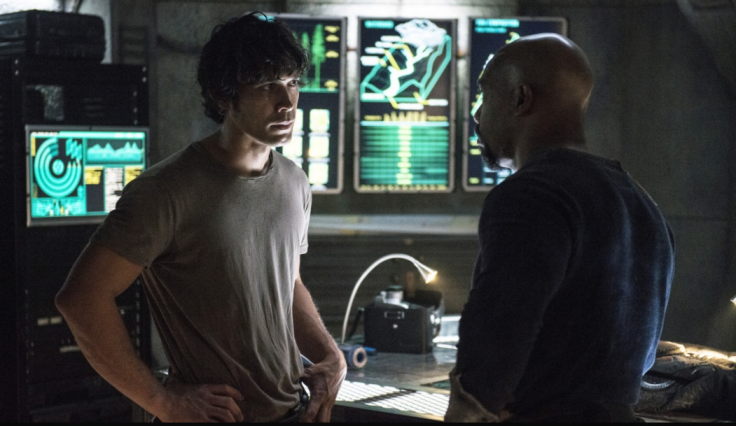 Chancellor Pike alongside Bellamy Blake will go too far in his anti-Grounder ways as Clarke Grifiin will return to Arkadia in the upcoming chapter of The 100 season 3. Episode 5 is titled Hakeldama, which airs on 18 February at 9pm EST on The CW.
The official synopsis reads as follows:
Clarke's (Eliza Taylor) hope for peace are dashed by a new threat. Raven (Lindsey Morgan) becomes a target. Meanwhile, Murphy (Richard Harmon) is running a dangerous con.
Click here to watch the episode online on The CW website (only in the US).
Executive producer Jason Rothenberg previewed episode 5 in a promo video. He said: "Pike has won the chancellorship and immediately sets out to take care of the peace army that Lexa sent to protect the Sky crew."
Speaking about Pike, Rothenberg shared: "He doesn't trust the Grounders, he doesn't trust Lexa and he is going to hit them, before they hit the Sky crew. Bad things happen when he goes out there with Bellamy in tow to meet this army."
Pike and his people will massacre the Grounders who were there to protect them, thereby threatening the peace between the Sky people and the Grounders. "What happened here is an act of war," Clarke tells Lexa as we see Octavia looking at bodies lying around. Marcus Kane is not happy, as he tells Bellamy: "They were here to help us."
Previously, Rothenberg explained to The Hollywood Reporter that Bellamy is influenced by Pike and that he is not a bad person. "Bellamy becomes influenced by Pike's view and his charisma, especially after he loses Gina. It's a dark turn but I don't think he's a bad guy."
According to the producer, there are a lot of reunions in the episode. "Jaha comes back with his friend A.L.I.E. intel and the backpack and has his own plans for Arkadia, still determined to save his people. Clarke comes back determined to save her people once again. Everybody has a different idea of what that means, and it will not turn out the way any of them want or hope," Rothenberg said of the episode.