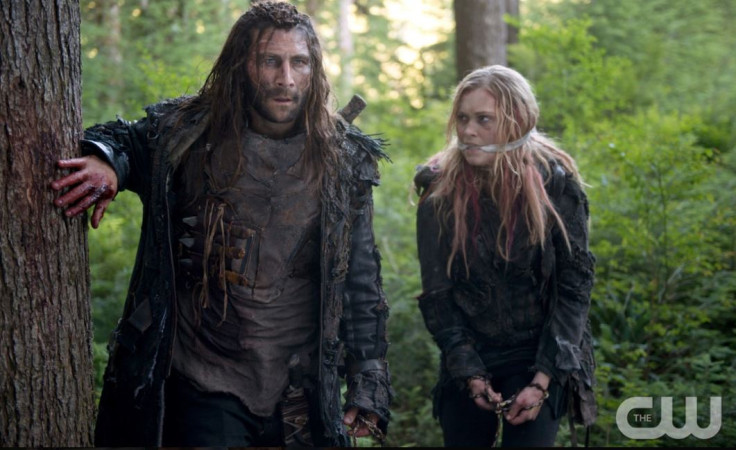 Marcus Kane and Bellamy Blake are to risk their lives to rescue Clarke Griffin from the rouge-Grounder Roan in The 100 season three's new chapter. Episode two is titled Wanheda: Part Two, which airs today (28 January 2016) at 9pm EST on The CW.
Here is the official synopsis for the episode:
Bellamy (Bob Morley) and Kane (Henry Ian Cusick) risk life and limb to rescue Clarke (Eliza Taylor). In an attempt to avoid worrying about her daughter, Abby (Paige Turco) focuses on whether to open Mount Weather as a medical facility. Meanwhile, Murphy (Richard Harmon) plots to betray his former Chancellor (Isaiah Washington).
Click here to watch the episode online on The CW Website (US viewers only). The opening episode revealed that Clarke is the 'Wanheda' aka The Commander of Death that Ice Nation and the Grounders are hunting for. Also, Bellamy, Monty and Kane along with Indira are travelling deep into Ice Nation territory to find Clarke, but by the end of episode Clarke is captured by Roan.
Executive producer Jason Rothenberg talks of what next in store for Clarke in a new promo video. He said: "Our heroes, Bellamy, Kane, Monty and some new friends that they find along the way, try to find her [Clarke]. Its a little bit of cat and mouse chase, as they are [getting] closer and closer to Clarke."
Rothenberg also explained difference between Ice Nation and The Tree People, and dished on their politics and belief. He told The Hollywood Reporter, "Ice Nation is hardcore. They are much more overtly violent and will solve their problems that way. Tree Crew's had to fight and they're bada** too, but they've evolved a little bit more and are the good guys in that bipolar dynamic."
The producer added that Ice Nation joined Lexa's (Alycia Debnam-Carey) coalition, only because of Mount Weather threat. He continued, "Nia [Brenda Strong], the leader of the Ice Nation hates Lexa and hates that they're at that table. So when Clarke, in one day, took the threat of Mount Weather off the table, suddenly Ice Nation wondered well why the hell they were still in this thing."
When season three debuted, "We enter the story at a time when that threat is out to rear its head in a big way. They all want Clarke because Clarke has the mantel of death, Wanheda. Wanheda is in the superstitious belief that if you kill Wanheda you control death. Everybody wants to do that and so she's in trouble." said Rothenberg.