An orchestra performance during a cultural festival in Turkey last week had a surprise visitor on stage that left the entire crowd cheering and laughing.
Much to the delight of the audience, a Labrador made its way onto the stage during Vienna Chamber Orchestra's performance at the International Izmir Festival in the picturesque ancient city of Ephesus, Turkey, on 20 June.
A video from the event has surfaced online, with internet users lauding the dog for its extremely good behaviour while on stage, as it did not bark or jump on anyone – at least not in the video.
The footage shows the dog wandering on stage when the orchestra is playing Mendelssohn's 'Italian' Symphony No.4.
After strolling across the stage and sniffing around the strings section for a few seconds, the dog decides to stop at a violinist's feet before it sits down to enjoy the performance, in what looks like the best seat in the house.
The 53 seconds of footage shows the dog enjoying the performance, although it does yawn at the end of the video.
The adorable scene has the audience laughing and cheering, however, the troupe does not seem to be distracted by the adorable intrusion and continues to play.
The video has been widely shared on social media.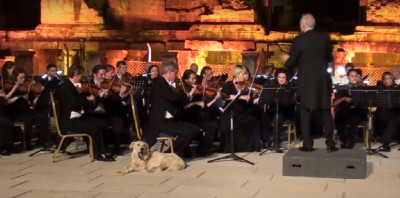 "Cutest moment in classical music," Turkish pianist Fazil Say said on Twitter as he tweeted the video.