Marvel's Agent Carter returns with its second season on 19 January at 9pm EST on ABC, when agent Peggy Carter travels to Hollywood to help investigate a mystery. The two-hour premiere will air the first two episodes titled The Lady in the Lake and A View in the Dark.
The episodes will find Carter, who is dedicated to the fight against new Atomic Age threats in the wake of World War II, travelling from New York City to Los Angeles for her most dangerous and bizarre assignment yet.
Click here to watch the episode via live stream online and you can watch the episode online by clicking here.
According to the official synopsis: "East Coast SSR Chief Jack Thompson (Chad Michael Murray) sends Peggy to work with newly appointed West Coast SSR Chief Daniel Sousa (Enver Gjokaj) to explore a strange homicide involving a body that glows and emanates cold. Upon her arrival, Peggy reunites with Howard Stark's (Dominic Cooper) butler and her loyal partner-in-crime, Edwin Jarvis (James D'Arcy), who welcomes her to the Hollywood life and sets her up at Stark's mansion. There, Peggy meets Ana (Lotte Verbeek), Jarvis' free-spirited and devoted wife to whom she takes an immediate liking."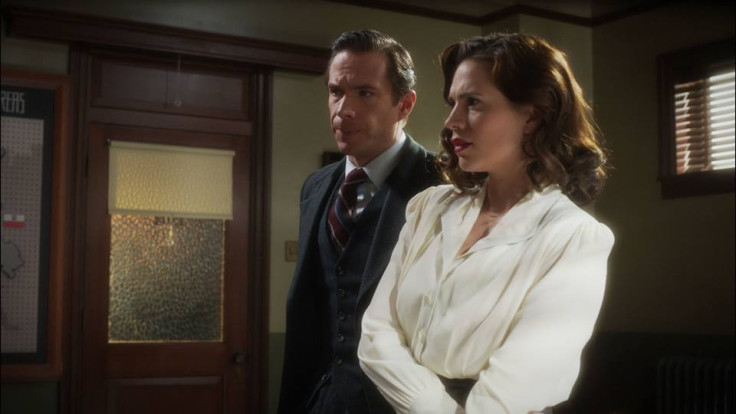 The plot description continues:
Executive producer Michele Fazekas dished on the new villain this season in an interview with Entertainment Weekly. Fazekas revealed: "The big bad is Whitney Frost, who's played by Wynn Everett. What I like about how we told the story this season is that we see her from the beginning. We see her go from just a person who's manipulative. The relationship she has with her husband is more of a Lady Macbeth, where she's manipulative, a genius who operates from behind the scenes. You see her become a villain. We also tell some of her backstory in episode 4."
"We actually compare and contrast her and Peggy, like how do these two women, who are similar in many ways — they're both very smart, strong women — end up in very different places in their life," she shared.