The Flash season 2 returns with an all new episode this Tuesday 19 January at 8pm EST on The CW, when the Star Labs team hunts down a new meta-human who can slow time. Barry Allen will consider sharing his secret with his girlfriend Patty Spivot in episode 10 titled Potential Energy.
The official synopsis reads as follows:
Now that they've grown closer, Barry (Grant Gustin) considers telling Patty (guest star Shantel VanSanten) that he is The Flash. Meanwhile, Joe (Jesse L. Martin) and Iris (Candice Patton) try to get to know Wally (Keiynan Lonsdale), and the team hunts down a meta-human who can slow time itself.
Click here to watch the episode online on The CW website in the US. Zoom will make an appearance in the episode as he will kidnap Barry's girlfriend. A new promo shows Harrison Wells saying: " Barry Allen... they call him the fastest man alive, he is not. That honor belongs to Zoom." Then we see Zoom kidnapping Patty as Wells tells Barry: "If Zoom finds out who you care for, he will take them from you."
Grant Gustin, who plays Barry, revealed that the speedster will be travelling to Earth 2 in the upcoming episodes. Gustin told IGN: "I think we'll be going to Earth 2 at some point this year. We'll see plenty of Earth 2 and I think we'll see some Earth 1 people on Earth 2 at some point."
The former Glee actor also teased that we will meet Earth 2's Barry in season 2. Gustin shared: "I have high hopes that we'll meet Barry from Earth 2 at some point and he'll be different in some way from the Barry we know now and maybe they can even interact, which would be fun."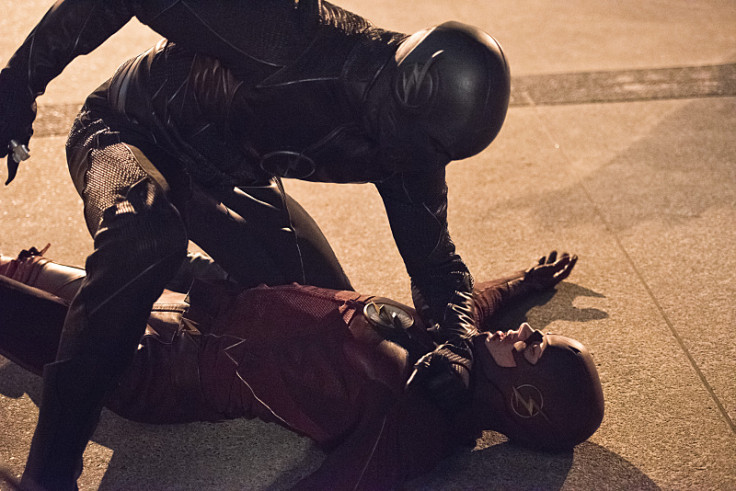 The actor also dished on the fan theory that Earth 2's Evil Barry is Zoom and said: "I don't think it's going to be Evil Barry. But I was pitching that idea really early on, like, 'How fun would that be, it'd be so cool!' I just selfishly wanted to play the villain."
The actor also revealed that he knows Zoom's identity but also didn't want to spoil the big moment for fans. Grant teased: "I hadn't asked who Zoom was. I didn't want to know but [Greg] Berlanti called me last night to catch up and talk about the episodes and that came up and he broke down that whole story for me and how it's going to evolve and what's going to happen. So I do know now. Obviously, I'm not going to tell you!"
"There are so many twists and turns involved with it and so many characters' arcs that are connected to it. I said it about Thawne last year. Even if you think you know, there's going to be some part of it that no one is going to guess exactly what the reveal is," he shared.