Watch Another Period season 2 episode 4 live online: Has Perez Hilton been covering gossip since the 1900s?
The new episode of the satirical show will air on Comedy Central on 6 July.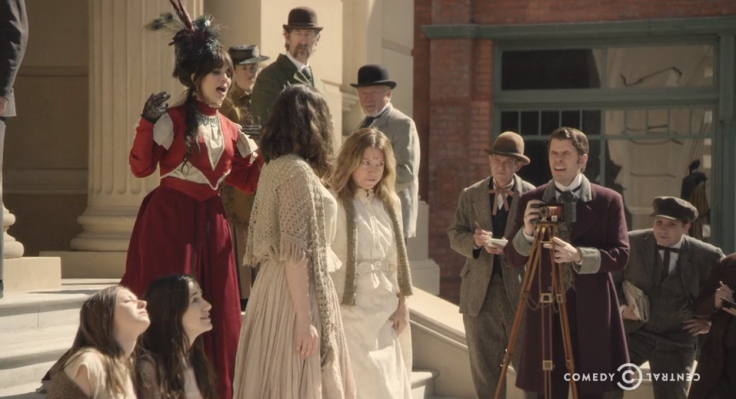 It's time once again to travel back in time to Another Period where the Bellacourt sisters are still trying their level best to compete for the "idiot" prize. This week, Hamish's trial has started and Lillian decides to use the publicity around it, to her own advantage.
Enter Perez Hilton, who guest stars in this episode as Brussels Sheridan from the Lookie Loo newspaper. The entertainment blogger plays a reporter who is covering the trial. In the sneak peek released by Comedy Central, the recently divorced Bellacourt heiress tries her level best to grab her 15 seconds of fame outside the courthouse. But Sheridan is more interested in the flock of women who are protesting the arrest and trial of Hamish.
"If this trial continues I will bathe myself in the blood of 12 pigs," says one woman, dressed in a white gown and an 'H' carved into her forehead (think Game Of Thrones's Faith Militia).
"And I will eat those 12 pigs, rub their guts on my body and set myself on fire if Hamish is not freed by sundown to be my... lover," another one of the groupies announces.
We have seen Lillian and Beatrice try their level best to earn fame and notoriety for doing absolutely nothing of importance, and this looks like one of those times.
The network has not released any more information regarding the episode titled The Trial, but the show posted a video on Twitter advertising the benefits of using Romance Powder (cocaine) to improve one's sex life. "Has the gilded age gilded your lily?" Lillian asks, before a narrator goes on to recommend Romance Powder for men who "don't have an erection lasting four hours" and don't mind a slew of side effects that include "boxer's chills, type 3 diabetes and governor's rash".
The second of the Bellacourt siblings continues: "Have your husband ask your doctor if Romance Powder is right for you," with Beatrice continuing, "Men know what's best for women."
Watch Another Period on Comedy Central on Wednesday, 6 July at 10/9c or catch the show online on the network's official website.
© Copyright IBTimes 2023. All rights reserved.