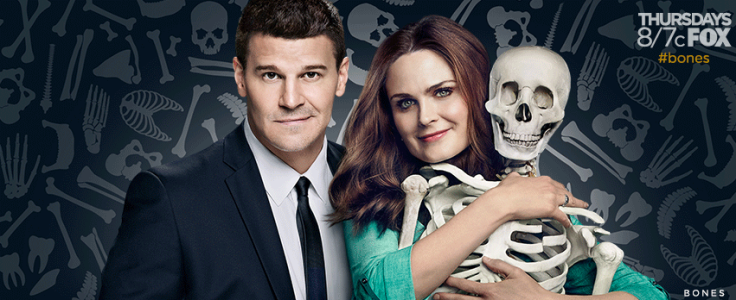 Although Temperance "Bones" Brennan and Seeley Booth quit the FBI's Jeffersonian team in the Bones season 10 finale, an unforeseen circumstance will thrust them back into the world of crime-solving. The season 11 premiere episode is titled, The Loyalty In The Lie, which will air on Thursday, 1 October at 8pm EST on Fox Network.
According to the synopsis the 11th season of the crime-solving drama will pick up six months after the events of last season, as Booth and Brennan are living a dream life with daughter Christine, and their new baby. But things will not remain that peaceful for the couple, as Booth will go missing mysteriously, which will force Bones to return to the FBI.
Click here to watch the episode live via Fox Now, and you can also watch it online by clicking here. The synopsis reads as follows:
Showrunner Michael Peterson talks season 11 plans, and revealed that Booth and Brennan will return to their jobs. Peterson told The Hollywood Reporter, "The big thing is the season has to be character-based. It has to be organic as far as the reason for them to quit and ultimately for them to come back. Not to spoil too much, but by the end of episode two, Booth and Brennan are going to be more or less back at their respective jobs."
The showrunner said that Booth and Bones cannot escape their fate, which is returning to the team. "We went through a bunch of different scenarios but we didn't want it to be anything where the action or the case that was the strongest thing that was leading them back instead of character. It's going to be a fun two-parter."
"It all comes together at the end of the second part and we understand these characters better. They can't escape who the are and their fate is really to do this job. That's what brought them together in the first place and it's not just something they can run away from," Michael added.