A fearless woman jumped on to the bonnet of her car and grabbed hold of the window wipers as would-be carjackers attempted to speed away in it.
Melissa Marian was filling up her white SUV at a gas station in Milwaukee when opportunistic criminals pounced.
A dark blue estate car pulled up beside Marian's vehicle and a young man exited it before jumping into her driver's seat while she was at the pump.
"I had my 'this is not happening to me today' reaction, ran around, jumped on my car, grabbed onto my windshield wipers, and didn't let go," Marian told FOX6.
Disturbingly, the thief was not put off by her desperate attempt to protect her vehicle and tried to accelerate across the forecourt.
But Marian would not be deterred and clung on for her life as the car shot off.
"They laughed at me. The kid in my car laughed at me while I was on my car and tried moving and throwing me off, and I screamed bloody murder, and I didn't get off," she said.
The perpetrator eventually stopped the car after 15 metres before it and Marian crossed onto the highway. He fled the vehicle and returned to the estate car he had arrived in.
Having won the battle of wills, Marian got down from the bonnet – the car still moving forwards – and clambered back into her driver's seat to bring the vehicle to a halt.
The car carrying the offenders quickly left the scene in the opposite direction. Marian said she believed it contained a group of four young men and they made away with her iPhone and purse.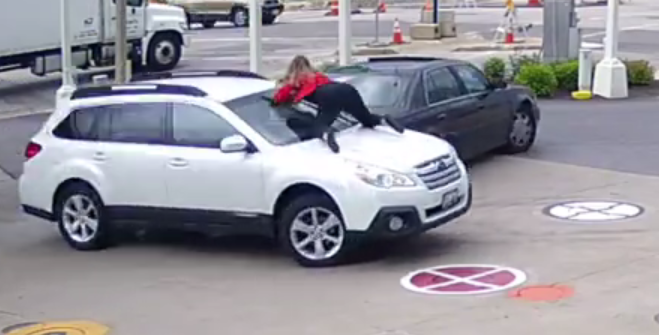 "I don't think it's fully sunken [in] how really bad that could have been. I know it's not the right decision but it was gut instinct," she said.
"You have a split second to think about what you're going to do. That was my gut reaction.
"It's not cool. It's not going to make you successful. It's not going to make you good honest money. It's going to get you into big trouble one day.
"I'm glad people are seeing [the video] and know this can happen to anybody, anywhere. I did not expect that to happen at two o'clock in the afternoon."