Watch giant 16-foot-long great white shark lurking near popular Australian beach
So far, the rare footage of the shark has got over 368,000 views and 2,200 shares on Facebook.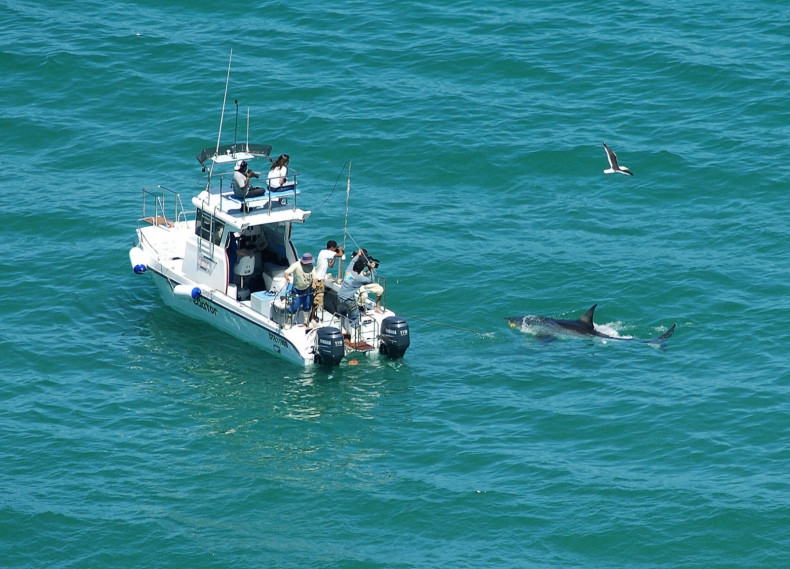 A giant great white shark was recently seen swimming eerily near a popular Western Australian beach in what has been described as a 'rare footage' of the massive creature.
The shark, which has been estimated to be around 16 foot long, was captured in the overhead view of a drone. It was swimming near a Department of Transportation patrol boat and was less than 200ft away from the beach of Twilight Cove in Esperance.
Filmmaker Dave Riggs and his wife shot the drone footage and shared it on Vimeo and Facebook. "She is estimated to be nearly 20-feet long and over 30 years of age," the description of the Vimeo video reads. "Rare footage indeed!"
However, as the clip went viral on social media, viewers estimated the size to be a little less than 16ft, considering the size of the 27.5ft patrol boat it was lurking around.
The Australian reports that this was one of the biggest sharks to be spotted near the coastline, with Riggs calling the event unusual.
So far, the rare footage of the shark has got over 368,000 views and 2,200 shares on Facebook.
As the report notes, increased shark sightings over last few months have sparked fears of more attacks this summer. Many including Riggs believe that the recent discovery of a whale carcass at the surfing spot of Alexander Bay is bringing these animals to shore.
"Esperance has had a drama with small white shark/human interactions at Kelp Beds every year for some time now. Those sharks are quite light in colour .. like they are coastal creatures," Riggs said in a Facebook post.
"The ones that are here right now are pretty much black .. like they have followed the dead sperm whales we have on the beach down here at the moment from the deep waters off the shelf."