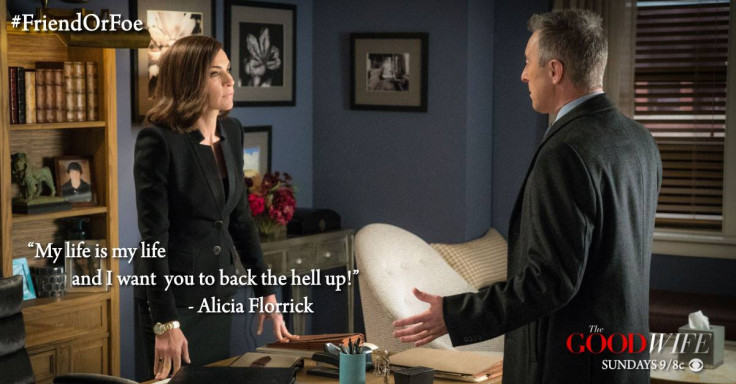 The Good Wife season 7 is just three episodes away from its series finale and it seems like Alicia Florrick may finally take a decision on leaving he husband Peter in episode 15 titled Targets. This because, in the previous episode fans got to see her share an intense moment with her private investigator Jason Crouse (Jeffrey Dean Morgan).
On the other hand, Eli Gold's daughter, Marissa has learnt that the FBI is trying to extract information about Alicia's husband. This prompts Ruth Eastman to warn her that her husband may still love her but he can also destroy her to save himself and offers her one suggestion "cash out while you still can".
The official synopsis of the episode reads as follows: Alicia joins a secret panel of attorneys advising the US government on a controversial case. Also, Eli hires Elsbeth Tascioni (Carrie Preston) to help Peter deal with the FBI.
Click Here to watch it via live stream online.
The show's creators previously teased that the ending of the series will be both happy and sad. Fans of the series are speculating that Alicia may finally see Julianna Margulies' character in a happy space after finding love in Jason.
Meanwhile, Preston told E! Online, "In a way it's kind of full circle. I was brought on in season one to help Peter out, so it's kind of full circle to see her back again in that situation."
She also teased some "interesting chemistry" between her recurring character and Mike Tascioni (Will Patton), Elsbeth's former husband.
"There's definitely still a lot of interesting chemistry that goes on between them. It's yet another glimpse into what this woman is like as a whole. That's something that I'll miss too. I learn about Elsbeth every time we do an episode," she said.
The actress also raved about Good Wife creators Robert and Michelle King for encouraging the cast to portray characters as they wish. "It was a situation where the actors are always encouraged to bring their own freedom and creativity to the creation of this role and under a wonderful guidance... It was just really great to be able to do that on television. You don't always have that situation, I do feel like I was given a gift and I have definitely appreciated it every step of the way,"