Animal-rights charity Animal Defenders International (ADI) has released a video showing Hoover the tiger and the story of his rescue and recovery from life in a cruel Peruvian circus. The video shows secretly filmed footage of Hoover being trained with whips and living in a tiny cage before he was rescued in a surprise raid.
The circus originally had 12 tigers, of which Hoover is the sole survivor. Though the circus went on the run in an attempt to escape Peru's wildlife laws, it was tracked down in the country's mountains and rescued in a joint effort by Peru's wildlife authority SERFOR, police and ADI.
Hoover was then transferred to a sanctuary outside Lima called the Spirit of Freedom, where he was rehabilitated and managed to thrive. After receiving apermit to live in the US, the 12-year-old big cat was transferred to Florida.
Hoover now lives in Big Cat Rescue, a sanctuary dedicated to rescuing and providing a home for abused big cats near the city of Tampa. Big Cat Rescue founder Carole Baskin said: "We are so happy to welcome Hoover and provide him with a safe, peaceful home at our sanctuary in Tampa.
"He will now spend the rest of his life enjoying the warm breezes of Florida, relaxing in the shady grass, lounging on his platforms and cooling off in our lake. He will literally be a world away from the abuse he suffered most of his life."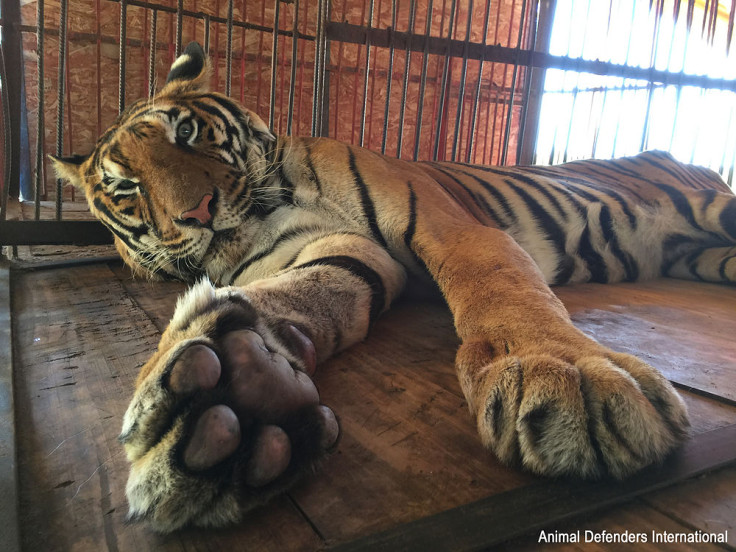 Jan Creamer, President of ADI, said that Hoover was lucky to survive. "His last cage mate had died before we could get to him. We were very grateful for the public support and information that helped us to track the circus down, now he can live in peace in his wonderful new environment."