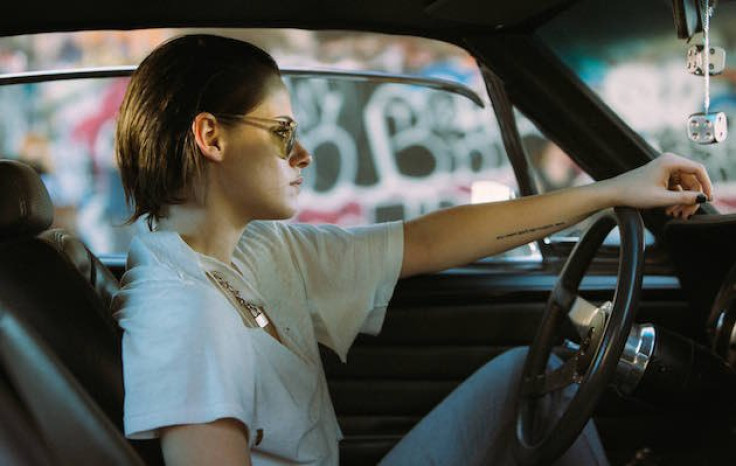 Hollywood actress Kristen Stewart is The Rolling Stones' latest leading lady. The Twilight star appears in the music video for the British band's song Ride Em On Down, which appears on their brand new album Blue & Lonesome.
In the three-minute clip, directed by Francois Rousselet, Stewart enjoys a lazy afternoon driving around Los Angeles in a blue 65 Mustang but, of course, gets into a spot of trouble. After passing a car set alight, Stewart is pulled over by a police car but she turns the tables, warning the officer: "You should probably get out of here."
After ramping up the speed and splashing through water, Stewart cruises off into the sunset with the backdrop of Los Angeles in the distance. None of the band, consisting of Mick Jagger, Keith Richards, Ronnie Wood and Charlie Watts, appear in the vintage visuals.
Speaking about her starring role, Stewart said: "It didn't take much more than a few words to get me amped on the idea. The Stones. A 65 Mustang. Alone in Los Angeles. And the shoot was just as dreamy as the idea.
"We tore LA apart in a day and we had one hell of a soundtrack." The 26-year-old is not the first actress to star in a Rolling Stones video with Angelina Jolie taking centre stage in 1997's Anybody Seen My Baby?
The Rolling Stones released their latest album Blue & Lonesome on Friday (2 December) featuring covers of songs from musicians including Willie Dixon, Eddie Taylor, Howlin' Wolf and Jimmy Reed. The 12-track record, which was recorded in just three days at the British Grove Studios, also features contribution from Eric Clapton who plays the guitar on two songs.
Watch Kristen Stewart in The Rolling Stones' new music video:
Don Was, who co-produced the album, said of the record: "This album is manifest testament to the purity of their love for making music, and the blues is, for the Stones, the fountainhead of everything they do."
News of the album came as a surprise given the band had not released new music since their 2005 album A Bigger Bang. Despite their combined age of 289, the Stones clearly still have a lot of energy to give. Detailing their continued passion for music, executive producer of their concert film Ole Ole Ole Julie Jakobek told IBTimes UK: "They seem to have a hunger for new experiences and they don't particularly like to hark backwards, it's always about looking forwards for them. They've got a very keen eye on what's happening now. They definitely celebrate their time in the industry but it's very much about now and what's next, what they can do differently and haven't done before."