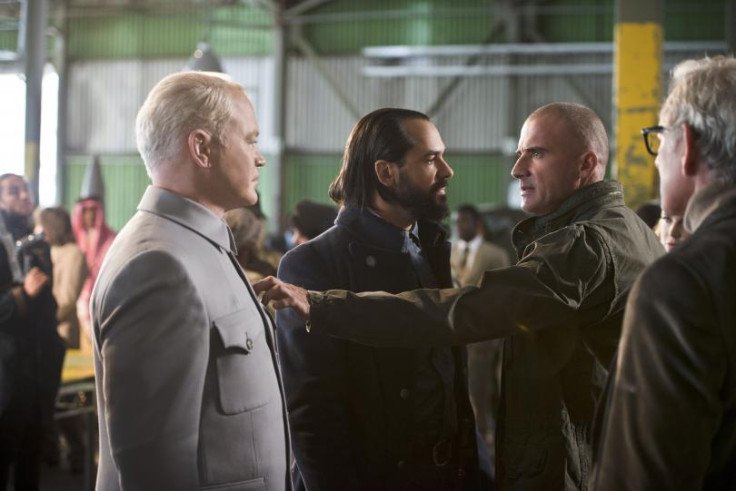 After an explosive premiere last week, CW's new Arrow and The Flash spinoff series, Legends Of Tomorrow, returns with its second episode on 28 January. One of the highlights of the upcoming episode will be Arrow season 4 villain Damien Darhk's cameo.
Thanks to the show's time-travel narrative, Darhk's younger self will be featured in the new episode, when a gang of the world's most notorious criminals come together for a meeting with Vandal Savage.
Legends Of Tomorrow episode 2 - Pilot, Part 2 synopsis
Tipped off to Vandal Savage's whereabouts, the team infiltrates a munitions deal with Professor Stein as their leader. Surrounded by some of the toughest criminals in the world, things quickly go from bad to worse when Savage realizes they don't belong there. A massive fight ensues and a piece of the Atom's suit falls off and into the wrong hands, which could potentially cause disastrous consequences in the future.
Stein realizes the best way to retrieve the missing piece is to contact a brilliant man — his younger self. He, Sara and Jax head off in search of young Martin Stein, much to Rip's consternation.
Meanwhile, Snart and Rory plan to steal a key element in defeating Savage but still unsure of his new teammates, Ray demands to come along on the mission. Carter helps Kendra remember something vital.
Could Darhk have something to do with part of Atom's suit falling into the "wrong hands"? It'll be interesting to see if that happens, and how it plays out into the present-day scenario of Arrow season 4.
Meanwhile, it looks like a potential romantic angle between Sara Lance and Leonard Snart aka Captain Cold, could be in the works. In her recent interview with IGN, actress Caity Lotz — who plays Sara — was asked if fans can expect to see something happen between these two complex characters on the show.
"You know, I don't think the producers were really pushing for that at all. But there's an episode where we have some really sweet stuff together, and it's nice," she teased. "So it's interesting. They're interested, but I don't know if that'll ever be anything."
Legends Of Tomorrow season 1 episode 2 airs on Thursday on The CW at 8pm EST. You can click here to watch the episode online.