Watch Mr Robot season 2 premiere live online: Elliot is in seclusion following five/nine hack
Mr Robot season 2 will open with how the five/nine hack by fsociety has changed the world.

USA Network's hacker drama Mr Robot returns with its second season on Wednesday (13 July) at 10pm EST. The two-hour premiere episode is titled Eps2.0_Unm4sk-Pt1.Tc and Eps2.0_Unm4sk-Pt2.Tc, which will pick up 30 days after the fsociety's hack on multi-national company Evil Corp.
The official synopsis for episode 1 reads as follows:
Five/nine has changed the world; Elliot is in seclusion; Angela finds happiness at Evil Corp.; fsociety delivers a malicious payload.
Click here to watch Mr Robot via live stream on USA Network. You can also watch the episode online by clicking here.
Season 2 will explore the consequences of fsociety's attack as well as the illusion of control, especially for Elliot Alderson, who spent the entire pilot season struggling to find a balance between being himself and hallucinating about his dead father in the form of an anarchist named Mr Robot.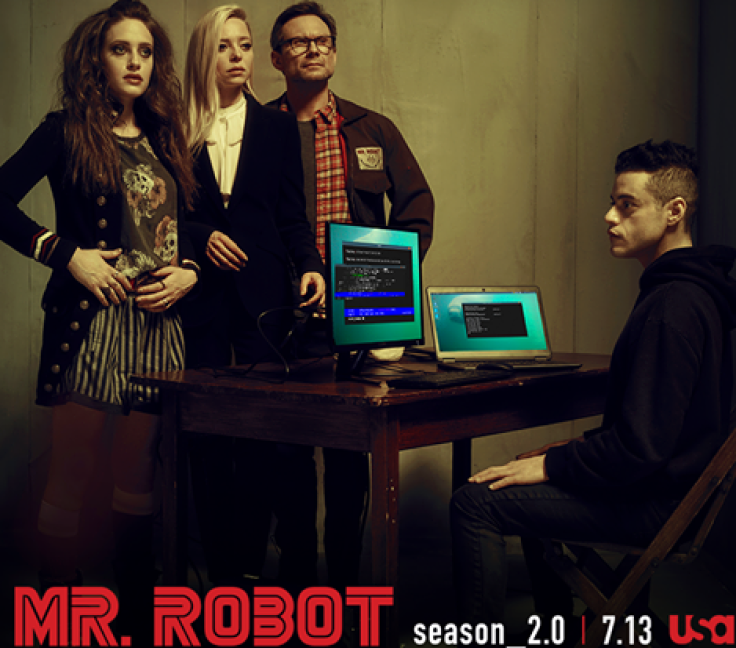 Rami Malek, who plays Elliot, spoke to Digital Spy about what is next in store for his character. He said, "It's a devastating place for him to be in, and he's just trying to take control of his mind and his life."
"I go through every day at work wondering if what I'm seeing is real. For all I know some of these other characters might not even exist," admitted the actor.
Previously, the executive producer spoke to The Hollywood Reporter about how much the show has changed since its pilot season. He said, "First season, no one cared and that was nice. We were isolated and in solitude and we could just put our heads down and write. This season, we've got all this attention, great attention. But the weird thing is somehow we're able to ignore it all and still put our heads down and write. I go out of my way to make sure that that happens because we don't want to be, going into the second season, we don't want to compare it to the first season at all."
"The strange thing is because this started out as a feature, it would be like comparison the second 30 minutes of the movie to the first 30 minutes of the movie. We're not trying to go into the second season saying, "OK, it's got to be the bigger thing and the badder thing and who's our villain this year?" We're on this path, we're continuing the story that we started in the first season and to the credit of my writers, they're able to somehow cancel out all the noise and put their heads down and focus on the story," he explained.
© Copyright IBTimes 2023. All rights reserved.