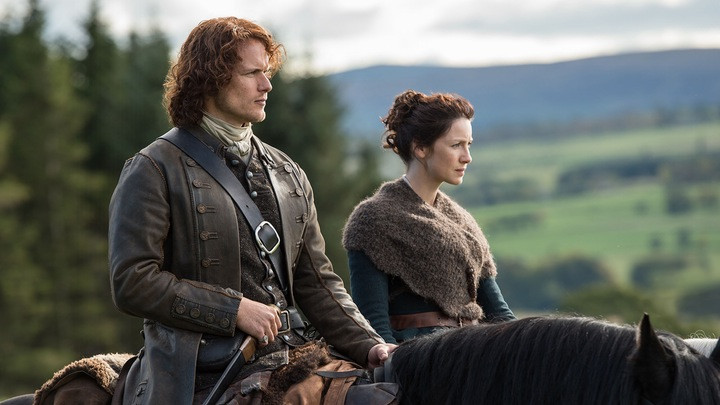 Outlander season 2 will return with its much-awaited finale episode this Saturday, 9 July at 9pm ET/PT on Starz Network. The 90-minute episode is titled, Dragonfly In Amber, where the Jacobite rebellion storyline will come to an unfortunate end, as the chapter will travel back and forth from 1746 to 1968.
Click here to watch the episode live stream. Alternately, you can watch the episode online by clicking here. You can also watch the episode by downloading the Starz app on your phone (only in the US).
Executive producer Maril Davis teased what awaits fans in Dragonfly In Amber episode in an interview with ET Online. "You'll laugh, you'll cry, you'll feel the gambit of emotions. Across the board, it's such an amazing episode and I'm so excited for the fans to see it," Davis shared.
The producer also spoke about the highly anticipated time jump in the finale episode. Davis explained, "Once we started this season with Claire already having gone back [to her present time,] we knew we wanted to catch up with her and find out what happened to her. [Co-executive producer/writer] Matt [Roberts] and [executive producer/writer]Toni [Graphia] had this idea of doing this parallel structure where we'll see what's happening in the lead-up to the Battle of Culloden, as well as see Claire back in the 1960s and lead up to what she's doing now."
Teasing a tricky episode, she added, "It was a little tricky, structure-wise, because obviously both of those stories unfold at different rhythms. With Culloden, there is a definite pace to it and you should always feel that tension, whereas the Claire and Brianna arrival story unfolds in a much more languid pace, but that's purposeful. There's supposed to be a difference in that way."
According to the official synopsis for the episode, "In the present, Claire reveals the truth to her daughter, Brianna; in the 18th century, Jamie does everything he can to save his loved ones as the Battle of Culloden begins."