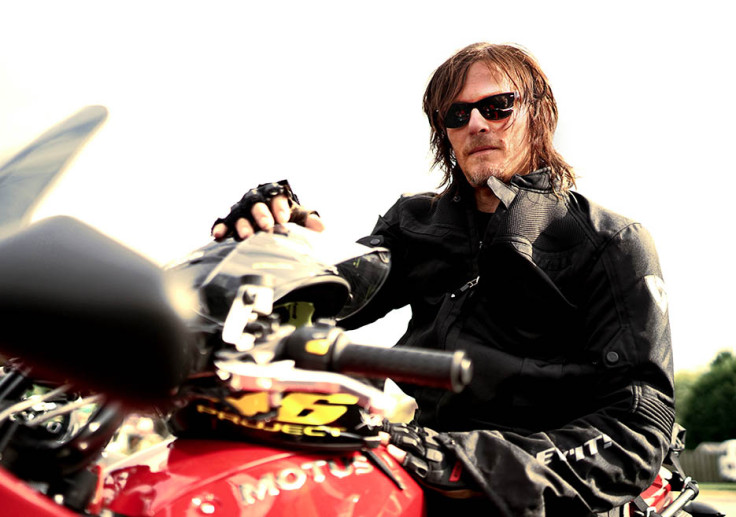 Norman Reedus, the star of hit action-horror-drama The Walking Dead, is taking a break from killing zombies and heading out on America's roads in the weekly docu-travel series Ride With Norman Reedus. Episode 4 of season 1 will air this Sunday on AMC at 10/9c.
This time, the actor and motorbike enthusiast will be joined by Sin City director Robert Rodriguez. The filmmaker will give Reedus a tour of his garage, showing off his prize collection of bikes and cars, many of which were made for and by biker legend Jessie James.
During their road trip the actor tells Rodriguez why he asked Greg Nicotero, The Walking Dead's makeup and special effects guru, for the prosthetic penis he created for Django Unchained. The two will then strap on their helmets and rev their way through "real Texas" in the fourth of six episodes of season one, titled Twisted Sisters.
Official synopsis for the episode:
"Norman meets a friend in Austin before hooking up with Robert Rodriguez and hitting Hill Country to discover the real Texas."
Each week Reedus brings a friend along to explore local biker culture and celebrate the best and brightest collectors, mechanics and craftsmen around the country. He has previously made his way along the Pacific Coast Highway, the deserts of Nevada, right to the mountains in Asheville, North Carolina.
Episode 4 Twisted Sisters will air on AMC on Sunday, 3 July at 10/9c. Watch it online here.