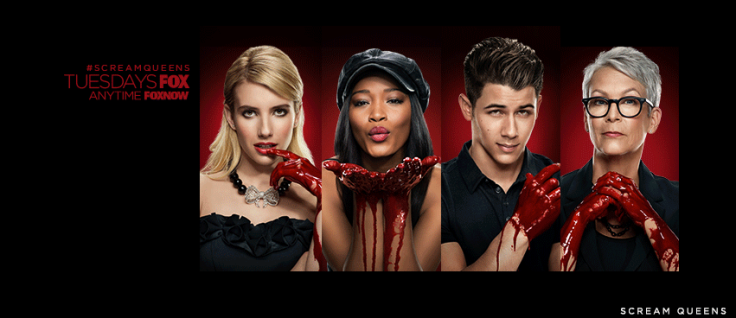 Inmates of the Kappa Kappa Tau are gearing up for a terrifying Halloween party, courtesy the terror reigned by the Red Devil. In the upcoming episode, Chanel, the ruthless Kappa presidential candidate, will have to suffer for the serial murders, at Wallace University.
In the previous episode, Zayday wanted to throw a charity haunted house after declaring her candidacy for KKT president. Hester, on the other hand, seduces Chad and they head toward the Shady Lane shack to have sex, where they discover the bodies of Chanel #2, Shondell, Coney, and Greenwell.
E! News reported that Chanel will be devastated after seeing her assistant and her ex-boyfriend's alleged affair and this will create a love triangle.
"It's pretty crazy," Emma Roberts (Chanel) told the website. "I mean, Chanel thinks that the last person she should ever have to worry about getting with her boyfriend is Hester, and then Hester woos him and Chanel finds out and is obviously devastated. So there's definitely some confrontations that happen between Chanel and Hester, which are insane."
There are speculations that the sorority queen will get arrested as a suspect for the gruesome murders. She might also be a suspect for Zayday's suspicious absence, who was kidnapped by the Red Devil.
It is still not known whether the serial killer would just torment the other KKT presidential candidate or will kill her.
The synopsis of episode 5 titled, Pumpkin Patch, reads as follows:
Scream Queens episode 5 will air on Tuesday, 13 October on Fox network. Click here to watch it via live stream online.