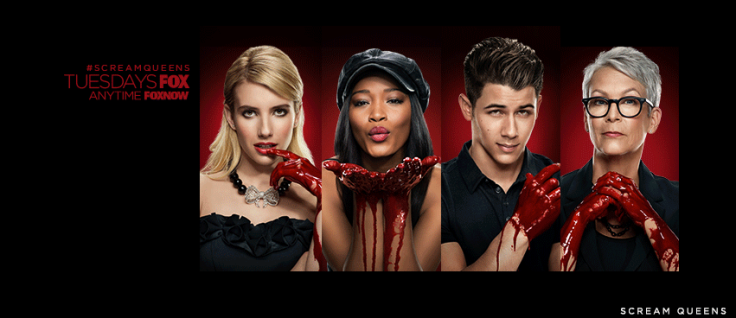 After a fortnight's break, Scream Queens is returning on the Fox network in the US and the upcoming episode promises to bring some major twists including the grand return of Ariana Grande as Chanel#2. As shown in the promo, after a series of murders inside the sorority house, Kappa Kappa Tau, Dean Munsch will be arrested by the police.
The horror of the Red Devil serial killer will force the sorority girls to host a seance and invite Grande's character, the murdered Chanel#2. It will be interesting to see whether the girl's plan will be successful or not. Click here to watch episode 7 live stream online in the US.
Meanwhile, Hester and the other Chanel assistants will plan to kill the ruthless KKT queen in order to grab her powerful position. However, the promo teases that their idea will backfire and one of the conspirators will lose her life. "This is what happens to sneaky backstabbers," Emma Robert's character tells a body lying in a coffin.
The official synopsis for episode 7 titled Beware Of Young Girls reads: "Dean Munsch is left in a desperate situation when a shocking event leads her to come face-to-face with her ex-husband's mistress. Meanwhile, in an attempt to determine who the Red Devil killer is, the Kappas use a Ouija board to communicate with Chanel #2 from beyond the grave and learn of a wicked plot against one of their own."
In the previous episode Seven Minutes In Hell, the KKT presidency poll ends up in a tie as both Chanel and Zayday get equal votes. The duo will go on an underground tour of the Kappa house where Chanel will be seen describing the ruthless history of the past KKT presidents. But soon their pavement strolls will be interrupted by the Red Devil who tries to kill Zayday but in a surprising move, the ever-emotionless Chanel jumps to her rival's rescue and helps her escape death.
The latest Scream Queens episode will air on Tuesday, 3 November between 9 and 10pm ET/PT on FOX network.