Watch Scream Queens season 2 live online: Will Chanel find Chad's killer in Halloween special episode?
Chad Radwell was killed in episode 3 of Scream Queens season 2.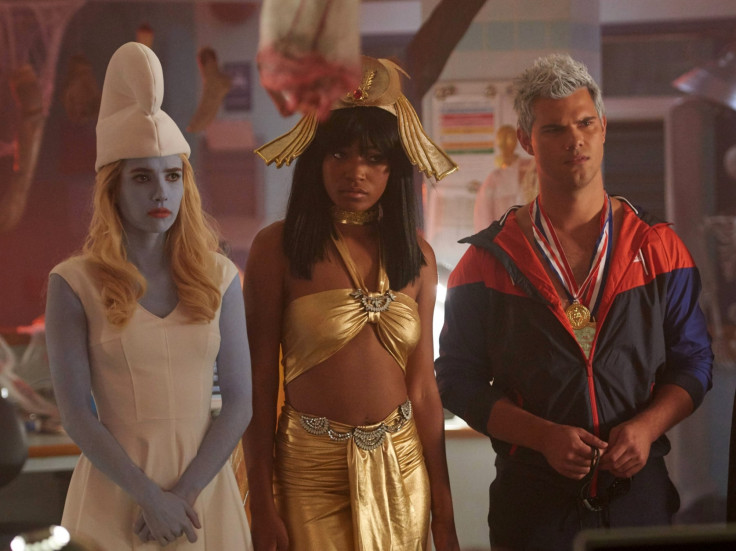 Scream Queens season 2 brought back and killed a major character from season 1. Chad Radwell (Glen Powell) returned to woo back his love Chanel Oberlin (Emma Roberts). But sadly he was killed on his wedding day, leaving his would-be bride Chanel scream in shock.
With his death, the horror of the Green Meanie has multiplied inside C.U.R.E, the weird hospital founded by Dean Cathy Munsch. In the upcoming episode, titled Halloween Blues, Chanel will try Chanel-O-Ween, her own creepy way to contact the latest victim of the killer. And, possibly she will contact the spirit of her lover Chad.
Click here to watch episode 4 live online on the official website of the network. The fourth episode will air on Tuesday (18 October) on Fox at 9pm EST.
Here is the official synopsis of episode 4:
After the latest attack by The Green Meanie leaves everyone shocked and saddened, Dean Munsch and Denise, along with Hester, devise a plan to catch the killer by throwing a Halloween party in the hospital. Meanwhile, Chanel celebrates a different kind of Chanel-O-Ween and attempts to make contact with the killer's latest victim from beyond the grave. Once the party begins, an outbreak surprises the hospital, leading Brock and Cassidy to jump into action, and another victim falls
Worried about the constant murders at the hand of a killer who leaves green slime as a trail of his gruesome crime, Munsch will seek the help of Hester, the former Red Devil aka serial killer of season one. In the promo released by Fox, Hester warns of massacres in the hospital and says: "On Halloween nights, massacres happen in this hospital. This year, it's gonna be a doosie."
Previously, the premiere episode revealed a little bit of history of the creepy hospital which goes back to 1985, where a pregnant woman interrupts a Halloween party to seek medical help for her husband. But instead of attending the patient, the doctor and the nurse injected aesthetic to him and dumped his body in the hospital's backyard swamp. It remains to be seen, how the incident is related to the present day killings in Munsch's hospital.
© Copyright IBTimes 2023. All rights reserved.