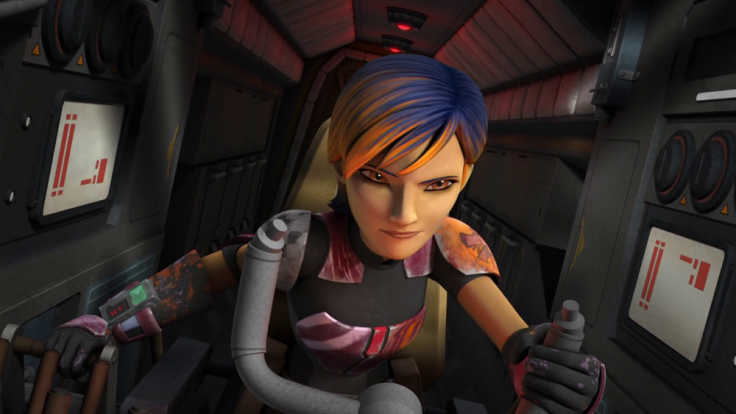 Star Wars Rebels season 2 returns with an all-new episode this Wednesday, 18 November at 9:30pm ET/PT on Disney XD. Episode 6 is titled Blood Sisters, and narrates Sabine Wren's back-story about how she left the Empire and highlights her life as a bounty hunter.
The official synopsis reads as follows:
Click here to watch the episode via live stream. You can also watch the episode online on the Disney website. Ezra and Sabine will embark on a mission to find a Droid, where Ezra tries to talk to her about being a loner and learn more about her past. The Rebels fans don't know much of Sabine's backstory, which will be addressed in the episode.
A new promo for the episode shows Sabine facing off against a mysterious bounty hunter named Ketsu as they discuss their past as bounty hunters.
Sabine tells Ketsu, " Saw your mark old friend, " to which he replies, "Friend, that's a generous term considering what happened." A confused Ezra points out, "So.. you two know each other?"

Sabine adds sarcastically, "Still a bounty hunter I see!" But he hits back at her, and says, "Tell me you don't miss it?" Ezra again asks, " Wait!! You[Sabine] were a bounty hunter? That explains a lot!"
"I don't think Ketsu is here for a reunion," says Sabine. "You know me well," says Ketsu, adding: "I am just here for the Droid."
Ezra then asks Sabine how she knows him, and Ketsu says, "She never told you how we broke out of Imperial Academy?" Sabine shrugs off the question and says, "That was a long time ago, before you got greedy, and left me for dead."
Ketsu laughs sarcastically and says, "You would have been better off left dead, than joining this band of Rebels. I didn't believe it until I saw the Empire put a bounty on you."
Sabine questions his motives, "You are going to collect on it?" Ketsu responds that he hasn't decided and adds that he works for the Black Sands now, and that he has a job to finish first.
Sabine stands firm and says, "I can't let you do that!" as the promo ends with both reaching for their guns, hinting that their reunion is not going to be friendly!