After a fortnight's break, Supergirl returns on 4 January in the US with the midseason premiere that will feature some cliffhanger moments involving Hank, Non and Cara. A sneak peek of episode 9 titled Blood Bonds reveals that Astra's husband has found another way of dealing with Kara and the Department of Extranormal Operations (DEO).
Warning: Spoilers ahead
To retaliate against the captivity of his wife Astra by the DEO, Non kidnaps Hank. The upcoming episode will be all about Kara's attempt to rescue the head of the DEO. The episode will also include some flashbacks featuring Astra and Non's trial in the planet Krypton.
Executive producer Andrew Kreisberg hinted that the war between Kara and Non will escalate further. "When we come back [in episode 9], the declaration of war between the DEO and Astra and Non's forces is in full effect", he tells EW.
He also teases that the upcoming episode will reveal the real identity of Hank as J'onn J'onzz who has the potential to become a father figure to the young Supergirl. "He's obviously older and a father figure, and is able to be a teacher and guide to Kara. She starts to trust him pretty fast. It becomes clear that they're partners in all this. Even though she's keeping the secret, it's going to come out. You're going to see some of the amazing sacrifices that J'onn is willing to make for Kara and Alex, and what they're willing to do in return," Kreisberg said.
The official synopsis of episode 9 reads: "With Astra in captivity at the DEO, her husband, Non (Chris Vance), captures Hank, leading to a tense standoff between the two sides. Also, Kara continues to refute Cat's allegations that she is Supergirl."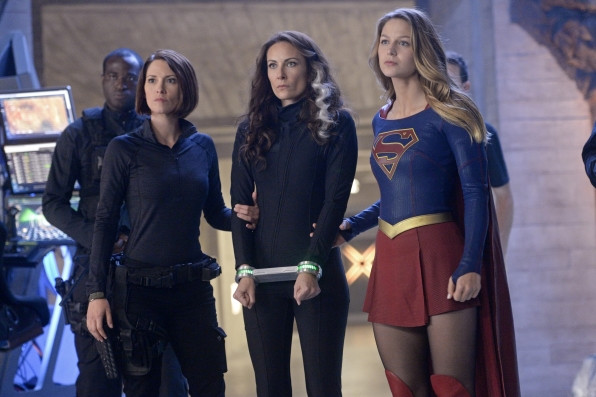 Apart from fighting against Non's evil intentions, Kara is struggling to hide her real identity from her boss Cat Grant who is confident that she is Supergirl.
Supergirl season 1 episode 9 premieres on Monday on CBS. In case you miss the episode when it airs, click here to watch it the very next day on the network's official website. The link is visible only in the US.