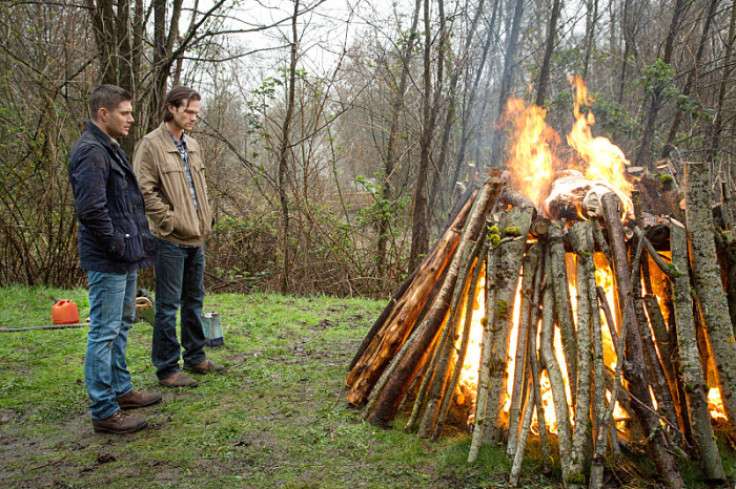 With one episode left ahead of the season 10 finale, Supernatural returns with an all new episode on Wednesday, 13 May at 9pm on The CW.
Episode 22 is titled The Prisoner, where Dean goes on a rampage to avenge Charlie's death.
Click here to watch the episode online on the official CW website.
The official synopsis reads, "Dean is on a rampage. When it comes to the Stynes, Dean (Jensen Ackles) decides to take matters into his own hands. Sam (Jared Padalecki) tries to come to terms with his decision."
In the previous episode, Dean finds out that Sam is secretly trying to find a cure for the Mark of Cain with help from Charlie and Castiel. But Stynes' family killed Charlie, who was like a sister to Dean.
A new trailer of the upcoming episode, shows Dean and Sam giving Charlie a proper funeral, and things are not going well between the brothers.
Sam says, "Charlie, I am so sorry." Dean tells him to shut up and says, "You got her killed, you don't get to apologise."
"I am going to find whoever did this, and I will rip apart everyone and everything he ever loved," Dean claims, as we see Dean going on a rampage in the next scenes.
It also seems like Dean has embraced his dark side again and Sam and Castiel try to put some sense into him.
"Everything that is happened is your fault," says Sam, while Castiel is heard saying, "Sam and I were trying to cure you." And Dean turns a deaf ear to them and points a gun at Sam.
Previously, a rumoured spoiler suggested that the finale episode will feature a fight between the Winchester brothers, and that it would end in a cliffhanger.
Jensen Ackles told Entertainment Weekly: "If you notice, Dean's starting to fall [back] into that [demon] attitude a little bit. I wanted to bring a little bit of that into [present-day Dean] to show you that, if things go wrong, then this attitude could get a lot darker and a lot deeper and a lot more pronounced."
But Dean is not completely taken over just as yet. At this point, he's still cracking jokes, but as Ackles put it, "It's more of a mask."
So, will Dean give in to the mark in The Prisoner? To know more, watch Supernatural's season 10 episode 22 that airs tonight, 13 May at 9pm on The CW.