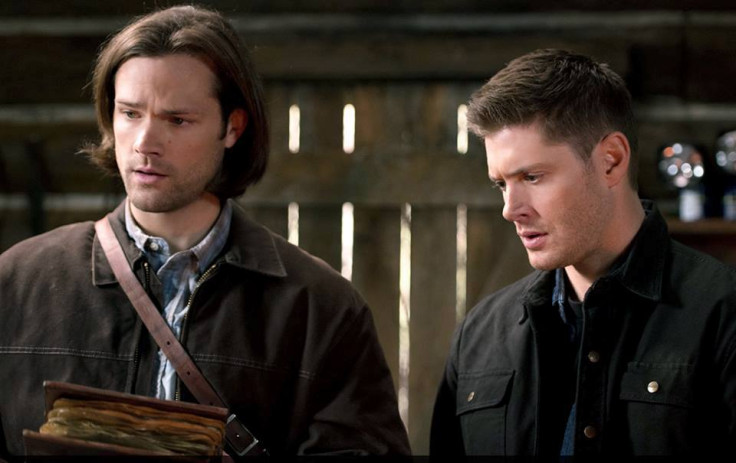 Supernatural season 10's finale synopsis reveals some major shocking moments ahead for the Winchester brothers.
Episode 23 titled My Brother's Keeper, is the finale of season 10, which will air on 20 May 2015.
The official synopsis reads as follows:
According to a tumblr post, the finale will end on a cliffhanger.
"The finale will end on a cliff-hanger. The boys [Jensen Ackles and Jared Padalecki] say that the finale is intense. The ends of act 3, 4 and 5 are all worthy of being the end of the season. Misha [Collins who plays Castiel] confirms this as well."
Castiel and Crowley will feature in an intense scene in the finale episode.
"Cas [Castiel] will be beaten up/covered in blood at some point. Crowley will be in this episode. There is a fight scene involving both Sam and Dean - maybe against each other?" the post teased.
The report also says something about Dean's favourite car. "The impala was at one point stuck in a ditch and Sam was spotted sporting an injury on his face. The final scene of the season my be just Sam and Dean."
Previously, YVRshoots.com posted a few pictures of Jensen Ackles and Jared Padalecki filming with the Impala for the season 10 finale.
The website wrote, "Last week Supernatural filmed the Impala stuck in a ditch. Jensen Ackles, Jared Padalecki and crew all helped push it out and back to its mark. Supernatural is shooting its final episodes of season ten out of order and I was lucky to see part of the season finale with a few fans at a park near Boundary Bay Airport south of Vancouver last Thursday night, April 2nd. Crew had three Impalas on set that evening."
Jensen Ackles also tweeted a picture of himself with the Impala.