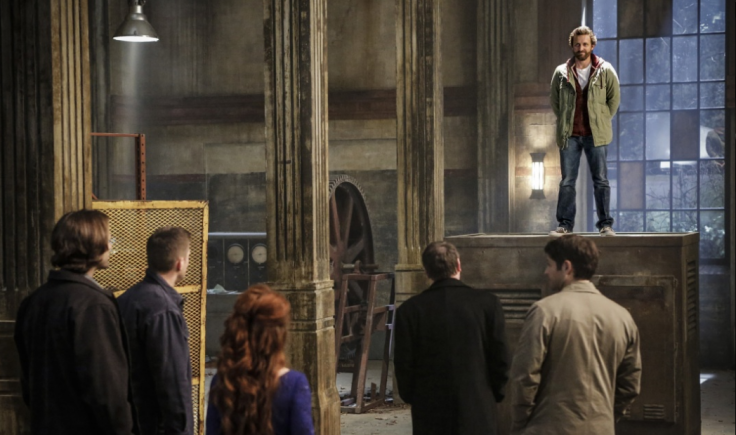 God/ Chuck wants a truce between angels and demons, so they can unite to fight the Darkness in Supernatural season 11's pre-finale. Episode 22 is titled, We Happy Few, which will air this Wednesday (19 May) at 9pm EST on The CW Network.
The official synopsis reads as follows:
Click here to watch the episode online on the official CW website (only in the US).
A promo released for the episode shows Sam asking God, "So what do you need to win?" God replies, "The angels and demons." Sam points out it will not be easy to convince them to work together.
The video then shows King of Hell Crowley, asking Dean, "So what's the plan?" God, who is in charge, tells everyone gathered, "We should be expecting a fight." The promo's voiceover says, "God vs Darkness.. a biblical battle royale."
The promotional pictures released show God trying to convince Crowley, Lucifer, the Winchesters brothers and Rowena to work together.
Rob Benedict, who plays Chuck/God, spoke to TV Insider about the dysfunctional brother-sister relationship between God and Amara. He said, "On a human level, it's brother and sister. It really is a dysfunctional brother-sister relationship. I almost feel like she's a little more the big sister, and she's kicked my sandcastle over more times that I can recount. And so, I think that's sort of the dynamic coming into it, but obviously on a greater conceptual level, we're dealing with light and dark, and the two sides of the same coin. So the thing about it that's scary is that God is God, but he's met his match. She's just as powerful."
Speaking of God vs Darkness, the actor teased, "So it really is this sort of... It's a pretty heavyweight fight! If I could be so bold to say, because I'm such a lightweight! (Laughs.) It's a heavyweight fight, and it's between these two beings."
Can the angels and demons work together to stop The Darkness? Do not miss the We Happy Few episode of Supernatural season 11 to find out.