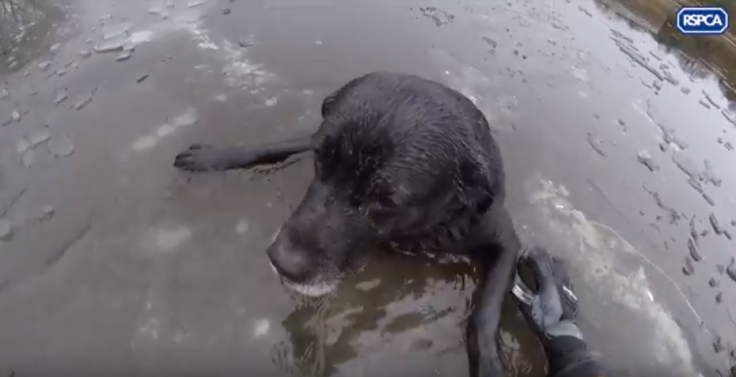 Fire fighters and officers with the Royal Society for the Prevention of Cruelty to Animals (RSPCA) came to the rescue of a dog trapped in a frozen river. Hardy, a nine-year-old Labrador had run onto the ice on the River Wansbeck in Ashington, Northumberland when he fell through the surface and was trapped in the cold water.
The dog's walker was unable to get close enough to rescue the struggling animal that was clinging to the ice for over an hour. Members of a local rowing club at Black Close Bank witnessed the incident and immediately contacted the Northumberland Fire and Rescue Service. They in turn got in touch with RSPCA for assistance.
The dangerous rescue was made by Inspector Jaqui Miller who used an ice pick to crawl her way to the stranded dog. She had a rope tied to her so that the other rescue workers could pull her back if needed.
"We were really worried about poor Hardy as he had been stuck in the ice for about an hour in the freezing cold water," Miller said according to The Telegraph.
"He had been out walking with his dog walker when he had run into the river not realising that the minus six degree weather we've had, recently had frozen the water."
The dog walker told the fire fighters that Hardy was used to paddling in the river and the sea and presumably ran into the river to have a swim.
"As I got closer to Hardy I could hear him whimpering and I kept calling back to him to try and reassure the poor dog," Miller recalled of the endeavour.
"I managed to grab him by his scruff and help Hardy push himself up onto the ice. He must have been freezing because he didn't hang around but scampered off towards his dog walker."
Once the dog was out of the water, fire fighters pulled both of them back by the rope. A preliminary check indicated that aside from a small cut on his paw and the effect of the cold, Hardy had no other injuries.
The entire rescue was caught on camera by a Gopro fitted on Miller.
The RSPCA has issued a warning to pet owners and walkers to keep their dogs away from frozen water bodies. "If your dog ventures onto the ice, never follow them onto it, instead call fire and rescue services for help," the organisation instructed.