Romance will continue to bloom on The Walking Dead season 6 with episode 11, which airs this week. Not that the new episode won't feature a generous amount of gore and shockers. Fans awaiting the deadly and brutal villain Negan's appearance on the show will get a teaser of sorts.
Official synopsis for the upcoming episode, titled Knots Untie reads: After Rick comes to the realization that Alexandria might not be as safe as he thought, decisions must be made about where to go from here.
According to a SpoilerTV report, Negan will be mentioned, along with "The Saviors" of course. Fans will get some answers about who they are, what they can do and why. They are definitely scary, but not for everyone apparently.
The site also calls Knots Untie a "must-watch episode," and teases that "what will happen during the hour could have huge consequences for the rest of the show." The episode will also focus on the "different romantic relationships in an interesting way." And the focus won't be on just Rick and Michonne, "two more couples will be featured more than usual."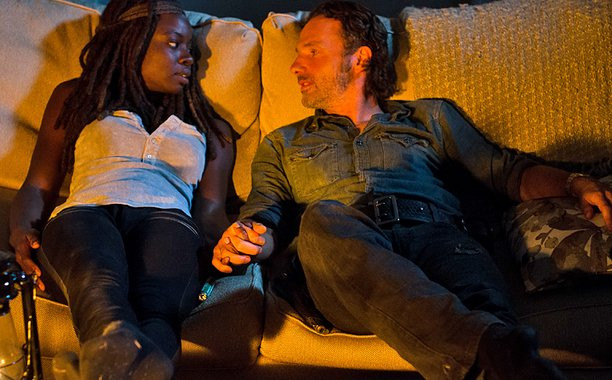 In a sneak peek from this Sunday's episode, Sasha tries to distance herself from Abraham several weeks after he told her that he's interested in knowing her a "whole lot better." (via Design & Trend)
"I'll see you tomorrow," Abraham tells Sasha in the clip. "Nope," Sasha replies, revealing that she will no longer be patrolling with him. "I'm starting a new shift at a watch post," she explains. "I already talked to Eugene. He wants to help out more. He said he'll take over my patrol with you." Abraham, who is obviously disappointed to hear the news, just mutters, "See you around."
The Walking Dead season 6 episode 11 airs this Sunday (28 February) at 9pm ET on AMC. Click here to watch it online via live stream.