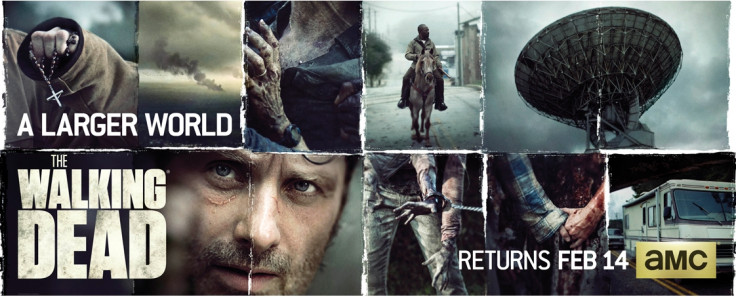 The Walking Dead season 6 returns post its midseason hiatus with the eagerly-awaited episode 9 to be aired on 14 February. One of the major highlights of the second half of the season is definitely going to be The Saviors and their brutal leader Negan's appearance on the show.
Actor Andrew Lincoln, who plays Rick Grimes, hinted at a pretty dark and devastating end to this season calling the last eight episodes – leading to the finale – "intense" and "heartbreaking".
"This is a hard season," Lincoln told The Wrap. "You'll see in the back eight, this episode on...it really moves incredibly quickly and intensely to one of the most heartbreaking and extraordinary season finales we've ever attempted."
Rumours indicate that fans will get to see the much-talked about debut of Negan on the show, in the season finale. Incidentally, Lincoln told Entertainment Weekly that he felt "sick" after reading the script of the season 6 finale episode.
"I felt sick to my stomach when I read the script," the actor stated. "It was the first day in the whole six years of working on 'The Walking Dead' that I was late for work because I woke up in the middle of the night and I couldn't get back to sleep. I was so angry and frustrated and I felt sick. And that was just after reading it."
Sounds pretty scary. Looks like Negan is about to make a mean entrance. Meanwhile, you can check out the official synopsis and promo for The Walking Dead season 6 episode 9 titled No Way Out, below:
"While trying to escape Alexandria, Rick and his group meet trouble when sudden noise draws walkers towards them with what could be fatal consequences."
The Walking Dead season 6 episode 9 will air on 14 February at 9pm ET on AMC. Click here to watch it online via live stream.
Moreover, The Spoiling Dead Fans Facebook page, posted a full summary of what will happen in the upcoming episode 9 of season 6. Here's how the closing scene plays out:
Warning: Spoilers ahead
Rick is sitting beside the bed where [an injured] Carl is resting. Rick says that he has found his faith again because of how the community banded together to save each other and Alexandria. He wants Carl to live in this new world, and Carl grabs his hand as the episode comes to a close.