A serial burglar who attempted to steal West Ham striker Andy Carroll's watch during a motorbike high-speed chase has been jailed for a total of 11 years.
Jack O'Brien, 23 of Ivyhouse Road, Dagenham, was found guilty of the attempted robbery of the footballer in his car as he was returning home from training on 2 November 2016.
During the trial at Basildon Crown Court, the jury heard how O'Brien had pulled up alongside Carroll in his Jeep Wrangler to speak to him at a set of traffic lights with another rider in Romford Road, Hainault, north east London.
O'Brien then told the England international he had a "nice watch" before gesturing to suggest he was in possession of a gun before attempting to block the car as Carroll sought to get away.
While giving evidence to the court, the frantic 999 call Carroll made to police as he attempted to flee was played to the jury, including explaining how he had "about 10 cars" before pulling back into West ham's training ground.
CCTV footage released by police shows Carroll narrowly avoiding oncoming traffic as he speeds away from the motorbikes.
Carroll told the jury: "I just pulled up at the traffic lights, my window was open, a bike pulled up next to me and said 'Nice watch'....He had his crash helmet on with his visor up.
"I stared at him for about 10 seconds as I thought I recognised him and thought he was going to have a conversation.
"I went to drive away and he said, 'Give me your watch'."
During his ordeal, the footballer was "beeping at other cars and driving on the wrong side of the road to get away", according to prosecutor Simon Gladwell.
The suspects continued to chase Carroll along Whalebone Lane North towards the A12, but they later abandoned their pursuit and sped off empty-handed.
O'Brien was identified as a suspect due to his distinctive crash helmet and jacket, which he wore during other robberies. When he was arrested on 12 November, he was found to be in possession of the motorbike, leathers and helmet used in the attempted robbery against Carroll.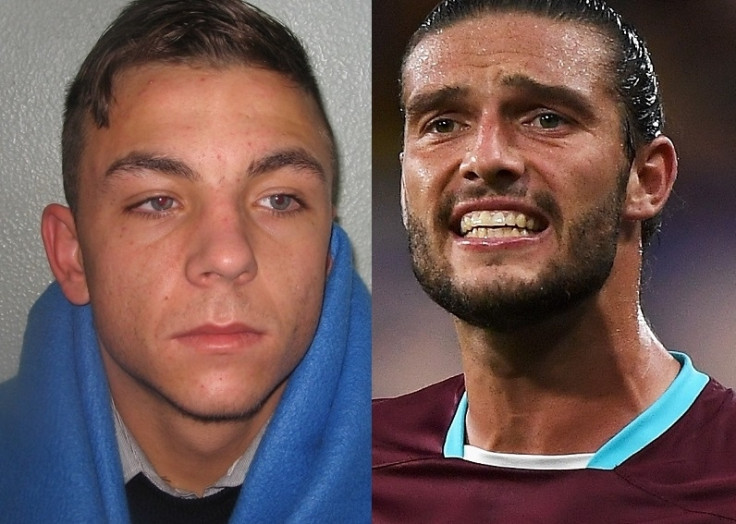 O'Brien had previously pleaded guilty to a series of offences committed in the Essex and Hertfordshire area, between August and November 2016, including residential burglary, attempted burglary and handling stolen goods.
The defendant has now been jailed for six years for the attempted robbery of Carroll and five years and three months for the burglary offences, both to run concurrently.
Police are still searching for the second suspect involved in the attempted robbery.
Detective Sergeant Brett Hagen, who was the Senior Investigating Officer in the case, said: "This was a welcome but entirely expected guilty verdict due to the compelling and overwhelming evidence against the defendant, Jack O'Brien.
"The moving footage of the vehicle chase shows the persistent and reckless lengths this man went to in order to try to steal a high value watch.
"I would like to thank the victim who showed great courage and calmness throughout this terrifying robbery attempt."