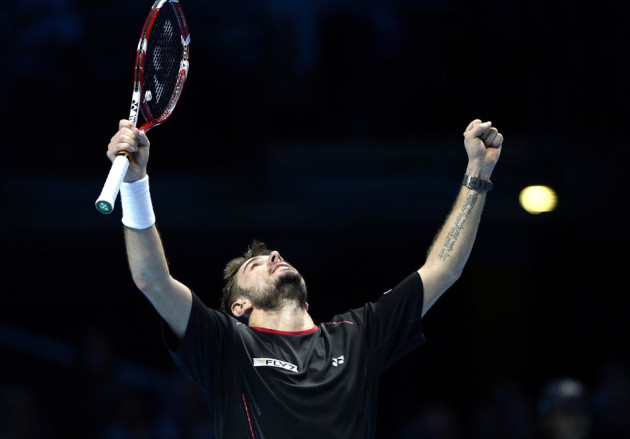 Stanislas Wawrinka secured a semi-final meeting with Novak Djokovic on his ATP World Tour Finals debut at the expense of Tomas Berdych after the Czech lost in three sets to world No.1 Rafael Nadal at London's O2 Arena.
Following Wawrinka's 6-7 6-4 6-1 win over David Ferrer, Berdych knew only victory over Nadal, who was already assured a place in the last four, would see him progress to a meeting with Djokovic on Sunday.
And the significance of the occasion clearly affected the world No. 6, who dropped his opening service game as Nadal showed no sign of letting up despite confirming he will end the year as world No.1 having beaten Wawrinka on Wednesday.
Berdych's 10th unforced error eventually saw him surrender the opening set as Nadal confirmed top spot in Group A by taking the first set 6-4 and setting up a meeting with either Juan Martin del Potro or Roger Federer.
But if Berdych began the match in lacklustre fashion, the 28 year old's start to the second set suggested he was unwilling to go down without a fight as he stormed into a 5-0 lead and as the match ticked over the hour mark, he secured the set 6-1.
Nadal was protecting a 15-match winning run spanning six years and the Spaniard eventually saw off the challenge of the former Wimbledon finalist, breaking in the eighth game and subsequently serving out the match 6-4 1-6 6-4 to send Berdych crashing out after two round robin defeats.
"I would say basically when you give to the player Rafa two games, it's just too much," said Berdych, who will represent Czech Republic in the Davis Cup final against Serbia next week. "I gave him the first game of the match, and then the one that I lost my serve in the third set.
"It is really close after my match. It's tough to talk about what is going on next week [in the Davis Cup]."
With a last four meeting against Del Potro and Federer to come, Nadal added: "Any opponent will be very difficult. We are playing against the best players of the world.
"So if is Del Potro, if is Federer, both players know very well how to beat me, in this surface especially. The only way to win the match of semifinals is playing my best match, playing fantastic tennis. That's what I gonna try."
The pressure had earlier been pilled on Berdych after Wawrinka had staged a comeback against already eliminated Ferrer, having lost the opening set. Despite holding a 5-2 lead, Wawrinka conspired to throw away his advantage before Ferrer won the resulting tiebreak 7-3.
Knowing the loss of another set would see him exit his first tour finals at the round robin stage before Berdych's meeting with Nadal in the evening session, the No.7 seed secured an early break in the second set as the Swiss upped his intensity to level the match.
And once square, there was only going to be one winner as Wawrinka stormed through Ferrer, who was noticeably tiring after reaching three finals in Paris, Valencia and Stockholm in the preceding weeks, and took the third set 6-1 and set up a meeting with defending champion Djokovic on Sunday.
"I won against Tomas Berdych, No. 5, David Ferrer, I lost a tough one against Nadal," Wawrinka said. "At the ATP World Tour Finals, it was quite good level for me. That's the most important. I can be only really happy with the tournament.
Ferrer, who reached his first grand slam final and won two major titles in 2013, reflected on his three successive losses in London: "The match, it was close I think. I had my chance in the first games on the second set. He serve is very good in important moments.
"The year was very great. Of course, I am happy with 2013. I did my first final for Grand Slam. Maybe I will finish the year No. 3, No. 4. So it was great. Of course, I'm happy."