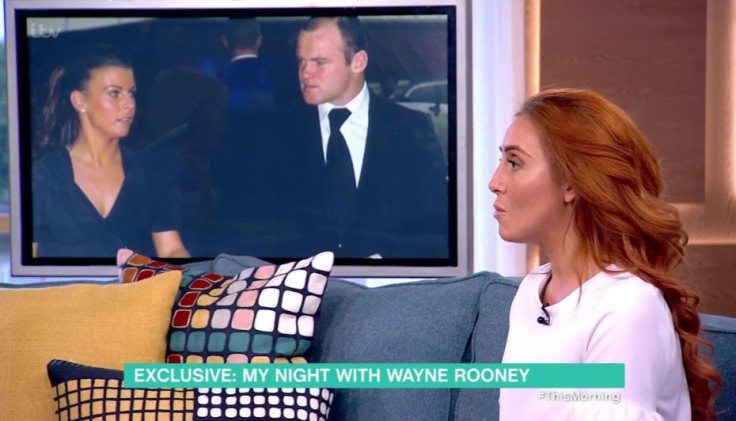 Wayne Rooney party girl Laura Simpson has reportedly demanded a whopping £75,000 to appear on this year's Celebrity Big Brother, where she plans to expose the truth about her wild night with the footballer.
Simpson, a regional sales and lettings manager, came under the spotlight earlier this year, when she was photographed with Rooney. The Everton star was arrested for drink-driving the same night and Simpson was found in the passenger seat of the car.
She later admitted the two had kissed and cuddled. She told MailOnline: "He kept admiring my clingy top and asking what size they were, saying, 'Are they real?' We had a kiss, a hug and some banter, harmless fun. I'm not a marriage wrecker."
It is believed that the 29-year-old initially turned down an offer of £55,000 from the Celebrity Big Brother bosses as she was holding out for a much heftier pay cheque.
A source told The Sun: "Laura has been in talks for a while with producers, but she's holding out for bigger money.
"She's been offered £55,000, but she's demanding £75,000. Laura has a really good job and a lot of work throughout January, so to sacrifice all of that, £55,000 wouldn't be beneficial to her."
Ever since the controversy with Simpson, Coleen and Wayne are said to have been estranged, with the mother-of-three writing a lengthy Facebook post conceding that while their marriage wasn't at its best, she was still fighting to keep it intact.
In a now deleted tweet, Simpson reacted to the WAG's statement saying: 'What a load of attention seeking b******s'.
During her stint in the Celebrity Big Brother House she will be spilling the beans about her infamous night out.
An insider told The Sun: "She's offered the producers a detailed step-by-step run through of everything that happened between her and Rooney in the house. It's definitely going to be something that is brought up in conversation.
"The only thing she's reluctant to talk about in depth is her phone conversation with Coleen, however, Laura likes to party so after a few drinks who knows what she might reveal."
Simpson is also reportedly working on an app wedonttell.com, where she will advise married men on how to cheat on their wives.
This evoked a harsh response from Rooney's former teammate Ryan Giggs' younger brother Rhodri who slammed Simpson on Twitter, calling her a "f**king tramp''.
Wayne and Coleen, who is pregnant with the couple's fourth child, will be moving to a new £20m mega-mansion in Cheshire next year, as they try to give their marriage another chance.