A registered firearms dealer from Norfolk who helped a parish council chief amass more than 460 weapons – including machine guns, explosives and a missile launcher – in a secret weapons cache has been jailed for six years. Anthony Buckland, 65, from Stoke Holy Cross, was convicted of 11 counts of selling a prohibited weapon and nine counts of fraud at Norwich Crown Court on 19 February.
Buckland had supplied arms to Wyverstone parish council chairman James Arnold. In 2014, police discovered an arsenal of 463 firearms at Arnold's Suffolk home after responding to a domestic violence call. After arresting Arnold, police officers searched his property. Suspicion was aroused when authorities noticed that the house's interior layout did not match the exterior. This led to a 27-day search of Arnold's home, outbuildings and eight acres of land.
Arnold was charged with two counts of assault and four counts of possession of a prohibited weapons. He died while on remand due to pancreatic cancer, three months after the discovery.
The deadly haul – which officers say Arnold hoarded as "some people collect stamps" – consisted of:
177 rifles, including AK-47s

136 handguns

88 shotguns

38 machine guns

200,000 rounds of live ammunition

An anti-tank missile launcher

Detonators and plastic explosives, including 1km of detonation cord
"When police searched Jim Arnold's home they found a vast collection of firearms in a secret room, which could only be accessed by crawling through a safe," Judge Stephen Holt said during sentencing.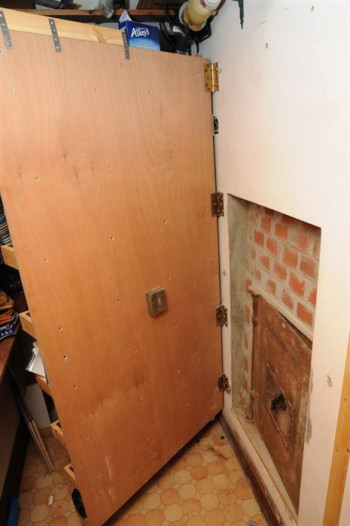 No terrorism connection
Despite uncovering one of the largest illegal arsenal in British history, Arnold's motive for amassing such a huge collection of weaponry remains unclear.
"The scale of what was discovered at Wyverstone was quite extraordinary and ultimately turned out to be the largest cache of weapons held by an individual ever found in the UK," said Detective Superintendent Steven Mattin outside court.
"Although we will never know the full reasons how and why James Arnold built up this huge arsenal of weapons, we were at least able to identify Anthony Buckland as someone dealing in illegal firearms as part of this investigation."
He added: "I am pleased with the sentence handed down to Buckland today and hope it serves as a warning to those involved in the illegal supply of weapons that this is a highly dangerous practice and if caught they face significant prison terms."
Chief Superintendent David Skevington said despite every line of inquiry being exhausted, authorities "found no evidence of a criminal or terrorist motive" describing Arnold as "a hoarder".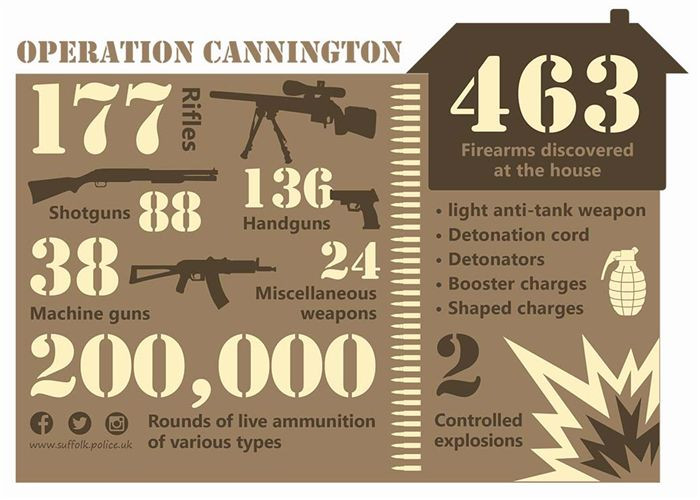 Buckland shook uncontrollably as he was sentenced. Michael Claire, mitigating for Buckland said: "He will never deal in firearms again; he will never handle firearms again, and he doesn't want to."