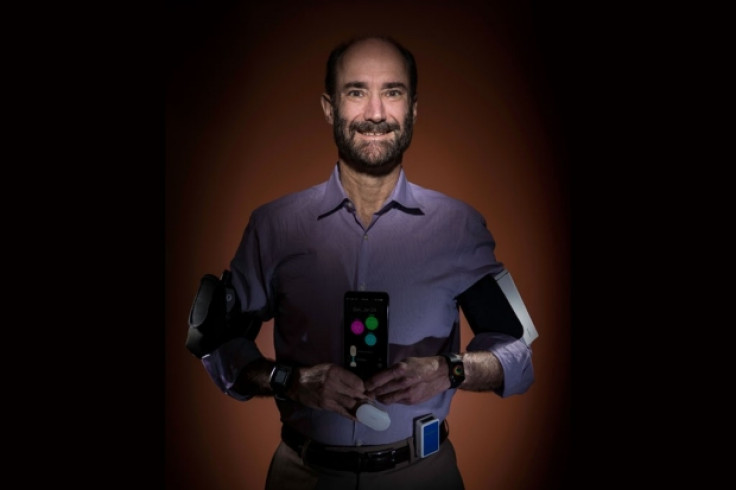 Wearable technology can tell when you are ill before you even realise it, a study has found. One participant, and author of the study, was alerted to changes in heart rate and blood oxygen levels by sensors he was wearing, which correctly predicted the onset of Lyme disease.
Carried out at the Stanford University School of Medicine, the test saw a team of scientists collect nearly two billion measurements from 60 people wearing a range of sensors to record their vital statistics. In all, over 250,000 data entries were logged each day. As well as data recorded from wearable sensors, laboratory tests of their blood chemistry and gene expression were also logged.
Data collected included heart rate, blood oxygen level, skin temperature, activity (including sleep, steps, walking, biking and running), calories burnt, acceleration, and exposure to gamma rays and X-rays.
But for Michael Snyder, the senior author of the study, it was much more than just a science experiment. On a long haul flight to Norway, Snyder noticed changes in his heart rate and blood oxygen levels. He was wearing seven biosensors and, although he knew from previous trips that his oxygen levels drop and heart rate rises while flying, the data this time was different and Snyder knew something was wrong.
The scientist went on to develop a fever and other signs of illness, leading him to wonder if he had been recently bitten by a tick and infected with Lyme disease while working outside in rural Massachusetts. A doctor in Norway confirmed this self-diagnosis and prescribed antibiotics to fight off the disease.
"Wearables helped make the initial diagnosis," Snyder confirmed, surprised and impressed that the wearable technology had spotted the illness before he did. "The fact that you can pick up infections by monitoring before they happen is very provocative," said Eric Topol, professor of genomics at the Scripps Research Institute, which was also involved with the study. "I was very impressed with the data that was collected."
As well as the onset of Lyme disease, Snyder's data also revealed four separate cases of illness and inflammation.
The popularity of tracking our daily exercise with smartphone apps, and fitness routines by smartwatch and other wearable gadgets, is beginning to pave the way towards research like this becoming the norm. Companies like technology giants Apple see great value in smartwatches and other wearable devices sharing the data they collect in the cloud and having it analysed by healthcare professionals, who can then offer advice via the same wearable gadget. Snyder says he hopes one day we will wear more sensors than are currently fitted to our cars.