Wearables 2.0 - Sensors woven into clothing lead medical revolution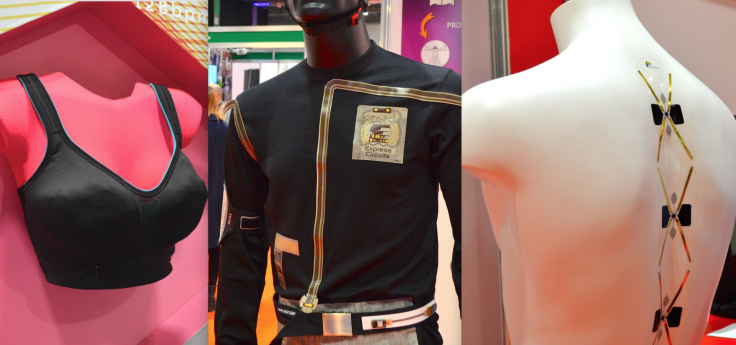 The next wave of wearable technology will see smartwatches and wristbands give way to sensors woven into our clothing, as technology shifts from a 'nice to know' to a 'need to know' basis.
While fitness trackers from Fitbit and Jawbone flood the market alongside smartwatches from Apple, Samsung, LG and Motorola, the wearable industry is already looking towards a bigger picture - stepping away from consumers and using the technology to improve medical treatment.
Smart clothing for medical use was a major theme at this year's Wearable Technology Show in London, where companies showed off a wide range of sensor-laden, Bluetooth connected clothing for tracking, recording and diagnosing.
"We're concentrating on the need to know, not the nice to know," Klaus Ostergaard, CEO of smart textile company Ohmatex, told IBTimes UK, dismissing current consumer-focused fitness trackers as nice but not essential. Ohmatex produces fabric with cables for power and data transfer woven into it, to which lightweight sensors and transmitters can be attached. The company also produces firefighter uniforms with integrated heat sensors, and is currently trialling a means of embedding wires and sensors into medical bandages.
Companies demonstrating products at the show all shared a focus on using sensors and low-energy Bluetooth connections to create affordable, durable and versatile garments for monitoring patient health and fitness.
They also want to produce health-monitoring clothing which doesn't look like it was made exclusively for marathon runners and professional athletes. Manchester-based Smart Life has produced a t-shirt and sports bra which contains sensors woven into the fabric for tracking ECG (the electrical activity of the heart), temperature, breathing and calories burnt.
The sensors feed data to a central 'brain' located behind the neck and weighing just 15g; this waterproof module also contains an accelerometer and can be fitted to any other Smart Life garment; you can buy several compatible shirts and switch the processing unit between them.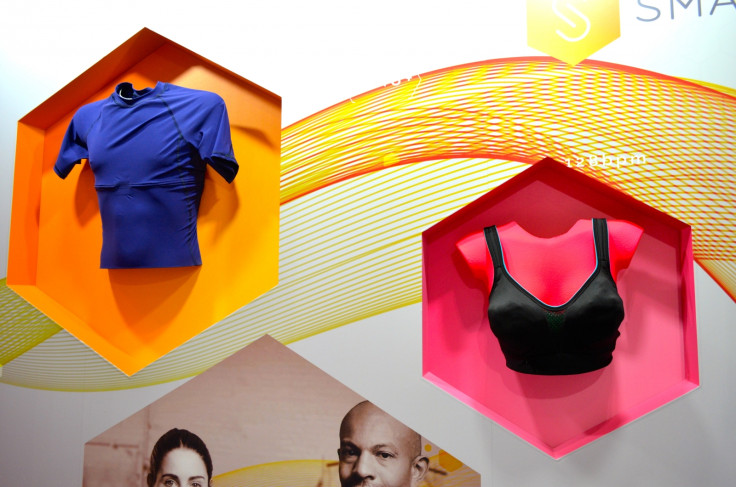 The smart clothes transmit up to 125 pieces of data per second over a Bluetooth low energy connection to Smart Life's iOS and Android app.
Chief operating officer Martin Ashby explained to IBTimes UK how the company's sensors - which are stretchable and durable - can be placed anywhere on the body. By knowing how much they have been stretched by, the sensors can also help nurses apply bandages more accurately and to exactly the right tightness depending on their purpose.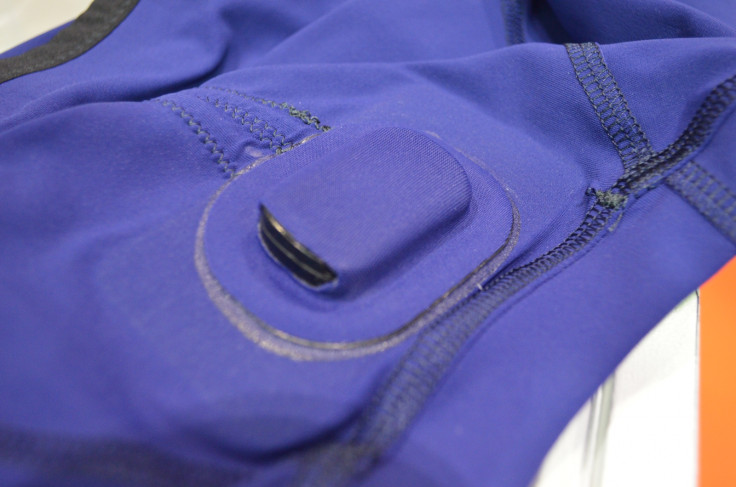 The 'brain' of Smart Life clothing weighs less than a £1 coin and can be placed almost anywhere; in this instance it is behind the neck
IBTimes UK
Available for pre-order now, the Smart Life T-shirt with processing unit costs £149, while the sports bra with identical and interchangeable processing unit costs £129. The company is also in talks with gyms and health centres to include its smart clothes with membership plans.
The desire to create smarter fabric is shared by Taiwanese company AiQ Smart Clothing, which produces a stainless steel fibre for transmitting current through garments. Chief marketing officer Nadia Kang told IBTimes UK that her company's goal is "to help the most disabled people in a more meaningful way" by producing health-monitoring clothing which alerts the wearer (or their parent or carer) to health problems before they feel unwell, or when they are unable to tell anyone.
Founded in 2009, AiQ works in every area of the smart clothing industry, from the materials and components, through the systems used to collect and monitor data, and to the manufacturing of industry- and consumer-facing products.
Kang said AiQ is focused on a market which fits between consumer gadgets and medical equipment. It is where these markets cross which we expect to see the largest growth over the next 12 months, aided significantly by ResearchKit, recently announced by Apple as a way for developers to tap into the iPhone's sensors, connectivity and processing power to run medical tests like never before.
© Copyright IBTimes 2023. All rights reserved.