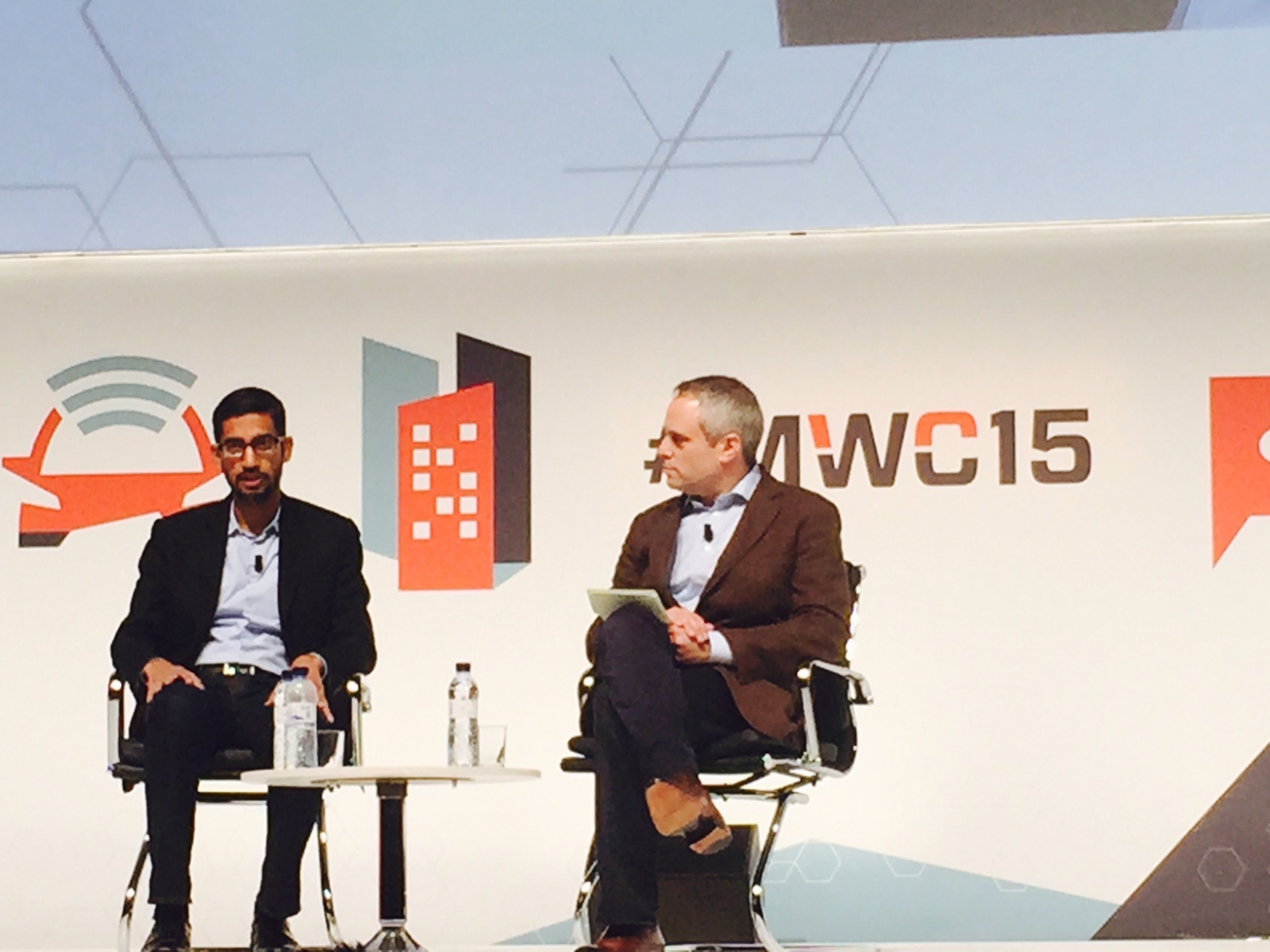 Last year, Google senior vice president Sundar Pichai appeared on the front cover of Businessweek hugging a cuddly Android toy. In the related article, Brad Stone dubbed the Indian-born 43-year-old the "most powerful man in mobile".
Since then, Pichai's influence at the sprawling technology company has grown further, following a promotion in October which saw him put in charge of every major product at Google aside from YouTube, and effectively made him the second most important employee of the firm, second only to CEO and co-founder Larry Page.
At Mobile World Congress in Barcelona Pichai made his first public appearance since that promotion and while his confirmation of Google's move to become a mobile phone operator grabbed all the headlines, Pichai spoke at length to Stone about a wide range of subjects including the challenges faced in China, the Apple Watch, the success of the iPhone 6 and wearables.
On that promotion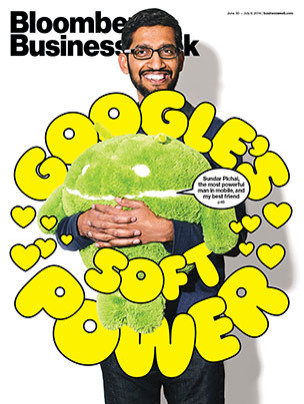 Pichai was called "the most powerful man in mobile"
Bloomberg
In October Pichai was handed a major promotion at Google, moving from just overseeing Android to also taking control of hugely important product areas including search and Chrome. So why did Larry Page hand over the reigns to Pichai?
"The scale of what we are doing [at Google] means we have a lot of depth as well as breadth. Larry and I worked together for many years and shared a lot of goals, so it was a way for us to divide and conquer if you will. I have spent a lot of time on our core areas thinking about the next way of innovation there. Larry works with me on that but he also does it at breadth, including [Project Loon and Project Titan] and thinking about things that are three-to-five to 10 years ahead."
On the success of the iPhone 6
While acknowledging that Apple's iPhone 6 and iPhone 6 Plus were doing well, Pichai pointed out that Android had been doing big phones for some time now, and that he thinks everyone in the mobile game is seeing results:
"We always knew the iPhone 6 would be a big moment for Apple. Every two years they have big releases and we knew from our Android experience doing bigger phones could have an impact, we've been doing it for a while. So I think it is a big update cycle for them and they are doing very well but we are seeing the same with our numbers as well, so to me it just shows that it is mobile's moment right now, it is now a zero sum game, I think all of us are doing well."
On Samsung's slowing sales
Pichai may think that everyone is doing well, but Samsung had a pretty rough year in 2014. However the Google executive believes the company's latest phones, the Galaxy S6 and Galaxy S6 Edge, will help reverse the decline:
"They are a great company. This device [Galaxy S6 Edge] represents the state of the art of what's possible in a smartphone and I think they had gotten a lot of the things right in terms of design, more focused on a better user experience."
On the challenge in China and companies like Xiaomi
Google and China are not a great mix, with the government there effectively banning the company. That has not stopped the huge growth of smartphones running Android - but without using Google services. This is something Google is working hard to fix, Pichai said:
"China is a phenomenon unto itself. It is important to remember that most of the innovation [happening with Chinese smartphones like Xiaomi and OnePlus] is powered by Android. So we are very committed, we work very hard. I met with partners from China this morning so it's a big part of what we do. We would of course love to see Google services on top of their experience."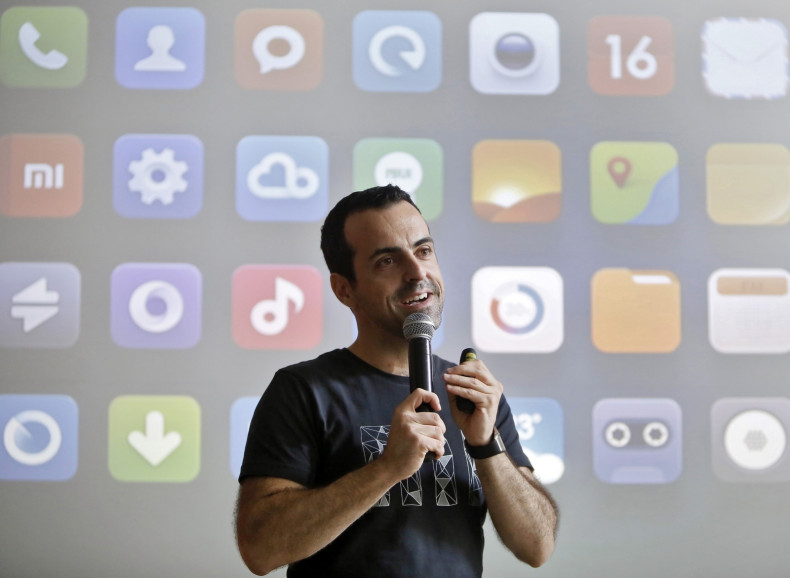 "The good news for us is there is a lot of demand from partners for Google Play in China. If you look at the scale at which Android is working in China you do see a lot of malware, so I think there is a shared incentive for us to get Google Play working there so we are working to make it possible."
On Cyanogen
Cyanogen, a company which produces mobile phone software based on Android but without Google's apps and services, recently received a high profile investment from Microsoft and announced a partnership with Qualcomm at Mobile World Congress.
Pichai says he has not played around with one of the devices yet but when asked if it was a good or bad thing for Android, he questioned the value proposition:
"I don't know their value proposition yet. I would question the premise a little bit. They are trying to build something without Google services. Every service I talked about here - search maps, YouTube or Chrome - these are services users asked for on their devices so I don't think that's where the value lies - but we welcome innovation, the only think that matters is that you have an Android experience that adds value on top of what we are doing."
On Google's phone network
As we said the biggest piece of news to come from the keynote was Pichai's confirmation that Google would soon be launching a mobile phone network. Here's what he said:
"The core of Android, everything we do, we take an eco-system approach, we work with partners and anything we do with connectivity would have the same attributes. We have always tried to push the boundary of what's next. We have done that with hardware and software. We do that with Nexus devices today.
"We are at a stage where it is important to think about hardware, software and connectivity together, especially when you think about form factors - you need connectivity on your watch. If you think about something like Android Auto, you need connectivity to make that possible, so we want to be able to experiment along those lines so that is the context in which we are thinking about the project we are doing.
"We don't intend to be a network operator at scale. Carrier partners are the ones who provide services and we are actually working with carrier partners. Our goal here is to drive a set of innovation which we think the eco-system will adopt."
On Android Wear vs Apple Watch?
Pichai is typically never seen without an Android Wear watch on his wrist, but on stage at Mobile World Congress, he didn't have one on, but he explained that was because he is currently wearing a smartwatch that is not yet released. He did however have some thoughts on wearables and the up-coming Apple Watch:
"To me wearables is an exciting category, all of us are in the early stages of it. Even when people look at Android Wear they forget how Android evolved on phones. For the first year we had one phone that sold in limited volumes and we built on that. So when you work with an eco system, you are moving many players together and it plays out over time.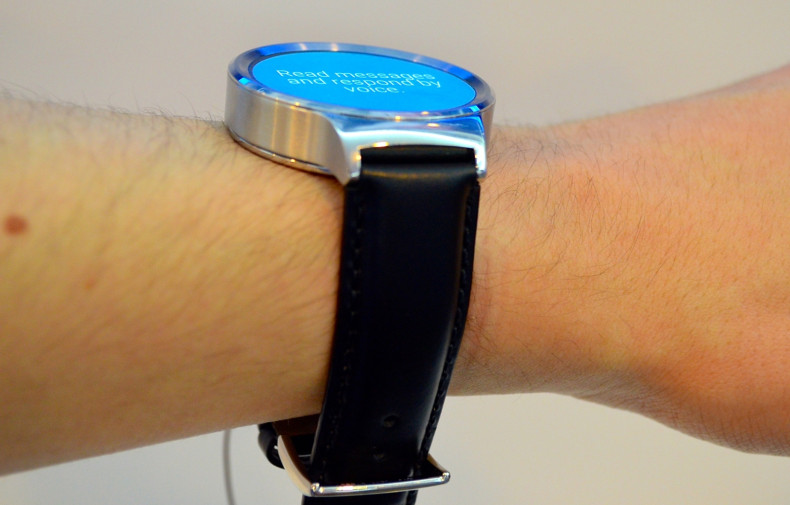 "I think there are a variety of use cases, payments is an example, health and fitness is an example, a collection of these use cases are evolving at a pretty rapid pace so it is an exciting year for us to bring it all together. I expect Apple has taken a long term view too, so I expect them to have worked on this for a while so I am just like everyone else and need to see what they have come up with. I think competition is good because it forces us to make it better for users."
On the business model of Project Loon:
Project Loon is Google's aim at bringing connectivity to the developing world. It involved floating huge balloons into the sky to connect vast areas. Currently in testing in New Zealand, the project has made leaps forward, with the balloons now staying afloat for six months at a time (up from five days at the beginning).
Pichai said that when Page first mooted the idea, he thought it was crazy. Asked about how Google might ever make money back from this type of investment, Pichai said the company was happy to play the waiting game:
"For us history has shown that if you take a long term view and do something that actually delivers values to users - and it matters the scale at which you get users on your platform - the business model tends to work out. It has worked out for us on search or Android and other companies, including Facebook, have shown this to be true. So we are comfortable taking a long term view. I think providing connectivity at scale, people are willing to pay for connectivity so I think we can make the model work out fine."
On the Android One initiative
Google's push to connect people in the developing world launched last year, and Pichai said that together with other people's initiatives, the push for connectivity and Android One, by the end of the decade between four and five billion people will be using smartphones.
"We focus on $100 [£65] smartphones. You can see cheaper smartphones but we wanted to create a smartphone which any of us in this room could pick up and be happy using. The demand has been great, enough that we have struggled to meet it. We have expanded to six countries. What we are doing with Android One at $100 can hopefully be done at $50 two years from now. That's the piece of the puzzle that's incredible."
On Android loyalty
Pichai said despite some reports to the contrary, retention rates on Android have never been higher:
"From our side we are seeing very positive momentum from Android. When I meet carrier partners most of them say Android loyalty rates are the highest level ever."
On the reach of Android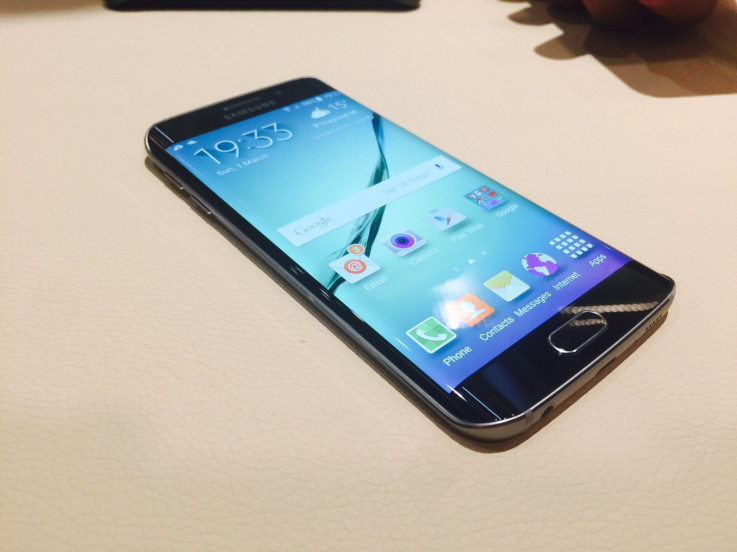 The Samsung Galaxy S6 Edge is the state-of-the-art of what a smartphone can do
IBTimes UK
From $50 Android tablets to the cutting-edge Galaxy S6 Edge, Pichai said that "this spectrum is that Android enables. Take the geographical scale of Android. We shipped over a billion devices in 2014. Eight out of 10 phones shipped in the world are made out of Android and for us every country around the world matters. We are even serving emerging markets; we launched Android One a few months ago in India with three OEMs and as of now with are in six countries with 12 OEMs."
On Android being everywhere
Android is not just for phones and tablets, Pichai said. With Android Wear and Android Auto, Google is clearly looking beyond what people typically think of as Android devices:
"We are working on Android beyond phones and tablets, you are seeing many watches being announced with Android, televisions, many cars will be on the road as this year progresses powered by Android and in 2015 virtual reality will be a hugely important area which is being power by Android as its foundation. We care about reaching all form factors."
On Android's 1,000+ partners
Ever wondered just how many people Google partners with to build all those Android devices? Pichai has the answer:
"There are over a thousand partners which whom we work closely on Android and the number keeps increasing. So to me at the heart, it is the openness and diversity that makes it what it is today."