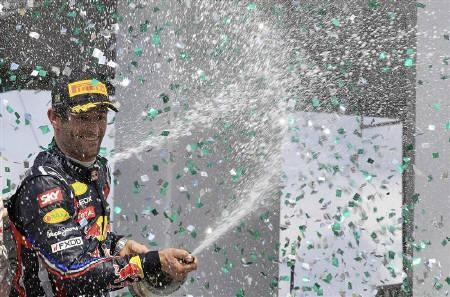 Mark Webber finally won his first Formula One race of 2011 as he led a Red Bull one-two in Brazilian Grand Prix, the last Grand Prix of the season, on Sunday.
Beating Red Bull teammate and double world champion Sebastian Vettel, who came second, Webber marked his first win since the race in Hungary. The Australian, who finished third in the championship, bagged his seventh title in F1 and the second in Brazil after winning in Interlagos in 2009.
Vettel, who has had 11 victories this season and leads the driver standings with 392 points, started the race from the pole position but the German champion missed the lead by 16.9 seconds as he was struggling with gearbox problems. Vettel, the keen F1 history follower, while reminiscing about Ayrton Senna, told his team over the phone that he felt like the legend who won the race in 1991 with barely any of his gears.
Though Webber may have been living under teammate Vettel's shadow, in this season, the Australian emerged a champion by winning the game.
"It's a great feeling to end the season this way," Webber has told the Guardian.
"With 10 laps to go I thought to myself, it's nice to finish the year with a win and my second win here in Brazil, it's always been nice to me. It's been a pretty good year but not like 2010."
Congratulating the 35-year-old over his performance, team boss Christian Horner said: "Fantastic Mark, well done. You've won the Brazilian Grand Prix again."
McLaren's Jenson Button, the 2009 world champion, finished third to secure second place in the overall standings with 270 points, with Webber climbing to third overall on 258 points, one more than Ferrari's Fernando Alonso, who finished fourth in Brazil.
Lewis Hamilton, though he finished fifth in the year end with 227 points, retired on lap 48 after he had a gearbox failure in the Sunday's race.
"I think it's been an interesting year. Today I gave it my all. I enjoyed the race and it's a little bit unfortunate that we weren't able to get extra points," Hamilton has been quoted by the Reuters as saying.
Ending his year-long feud with Massa, Hamilton walked up to the Ferrari champion and gave him a hug after the pair collided as many as six times on the track this season.
"I was challenging Felipe at the end and was hoping I could get him but the gearbox didn't last. It's been a long year and I'm looking forward to a little bit of downtime with family and friends," added Hamilton.