2013 has been a good year for weird news. All we can say right now is that 2014 sure has a lot to live up to - or is it down to? Enjoy this selection.
1.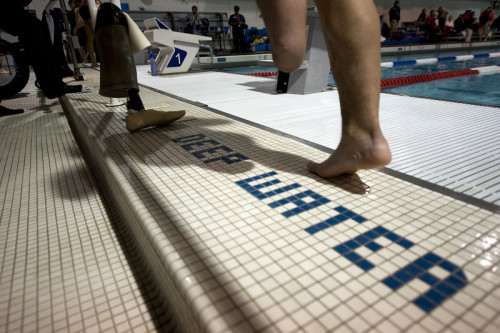 Children were "immediately evacuated" from a leisure centre in Kent when a prosthetic leg was mistaken for a paedophile. Members of staff spotted a foot peeping out from a door and quickly figured it was a pervert in hiding. Closer inspection of the fake keg revealed what it was. With this incident Britain grew a bit more like news satire show, Brass Eye. Will 2014 see a paedophile get mistaken for a fake leg?
2.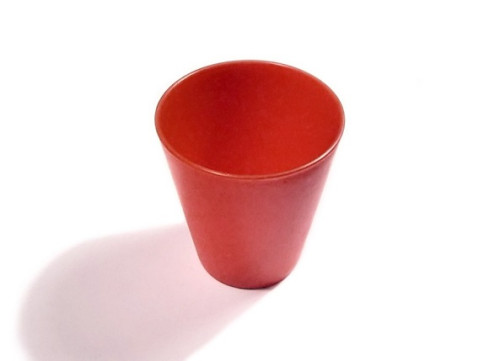 The presence of a 'penis beaker' on a couple's bedside table nearly crashed the Mumsnet web servers on the internet. Debate on the online community took a weird turn when seemingly every one of the 4.5 million monthly users began talking about the merits of men using 'a penis beaker' as a post-coitis washing routine for hygiene reasons. The debate was too much for some users, one of whom told the Belfast Telegraph: "It's not what Mumsnet is there for." Today it is possible to buy "recyclable penis beakers." The advert promises they are: "Unused!"
3.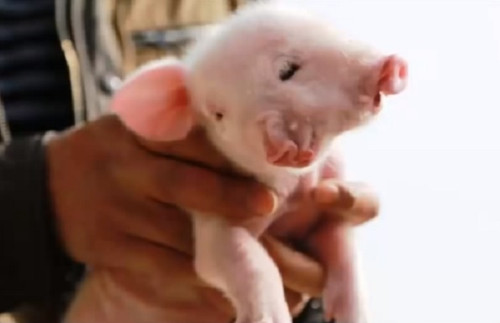 A pig being born with two heads is improbable, but the births of two double headed pigs in the same country, is weird. That is what happened in China – a country which supplied more than its fair share of tales of the bizarre during 2013. A little porker with two snouts and a malformed skull was born in Nanchang, capital of the country's Jiangxi province. The deformity is due to a condition called polycephaly, caused when an egg fails to divide properly in the womb. Remarkably, the same thing happened in another village in the same province, only months earlier.
4.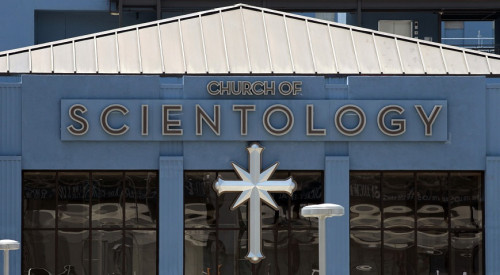 2013 could down as the year when the world was forced to stop laughing at Scientology, after it was declared a religion by the UK Supreme Court. Scientology has long been derided for everything from its flaky theology – concocted by sci-fi master storyteller Ron L Hubbard - to the preposterously grandiose interior decor of its buildings and the apparent fixation of the 'church' upon members who are famous, rich and ideally, both. But now UK judges have stepped in to spare the blushes of Tom Cruise and others. Who's laughing now?
5.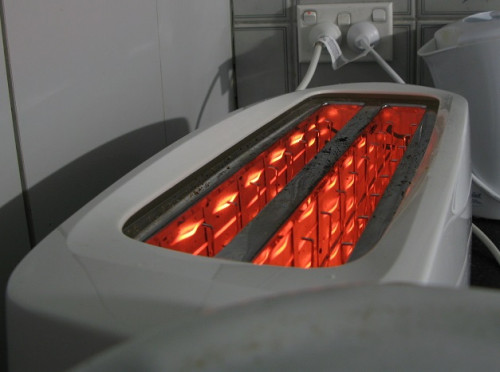 A man jammed nearly turned his todger to toast by plunging it in to the kitchen implement, as the Fifty Shades of Grey effect continued to cause ripples in 2013. The raunchy reveller was forced in to an embarrassing call to emergency services. Firefighters in London managed to remove the hot metal device from the man's crown jewels. A fire brigade chief said: "The number of incidents involving items like handcuffs seems to have gone up."
6.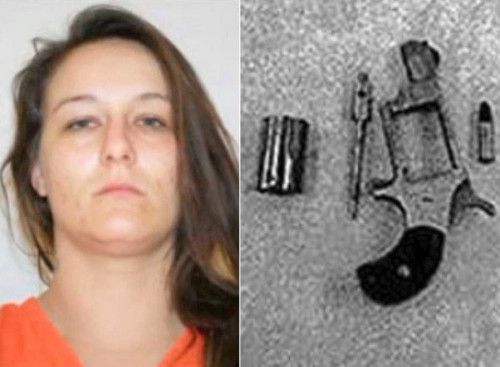 The capacity of the human body for concealment was shown by two women arrested for trying to evade the long arm of the law by hiding items in their private areas. Christie Harris hid a loaded gun in her vagina, while in Oklahoma a drugs pipe was discovered inside Ericka Maine Danna. Elsewhere, one woman used her private parts as a weapon by filling her vagina with poison in a bid to kill her husband. The plotter in Brazil was exposed by her lover, who alerted police. They discovered she was packing enough poison to kill him twice over.
7.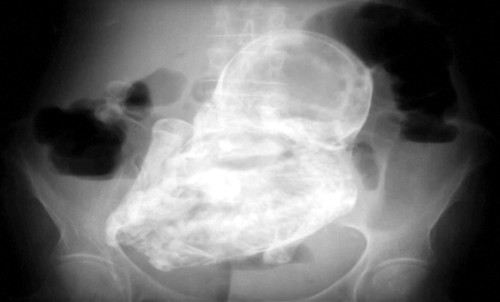 A 'stone baby' was found inside a woman who had no idea she had been carrying the human remains in her body for 40 years. The discovery was made after a 82-year-old woman in Colombia went to hospital complaining of stomach pains. Examinations revealed the presence of a so-called lithopedion – a calcified foetus - inside her. The baby had died in the woman's abdomen after which her body had coated it in calcium to protect the mother from infection. The case was one of only 300 cases of 'stone babies' in the past 300 years.
8.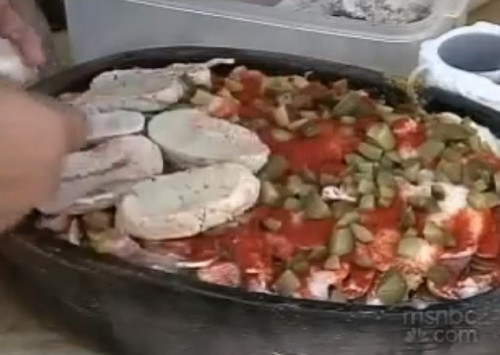 In Serbia people gathered to take part in a culinary contest devoted to the consumption of reproductive organs, in August. Competitors competed for the best way to cook so-called 'white kidneys' which had previously been swinging between the legs of camels, bulls and even kangaroos. The location in a remote village named Gornji meant only the most devoted testicle fans could make it. The slogan read: "Scots have the Scotch, the Swiss have their cheese and we the Serbs have balls."
9.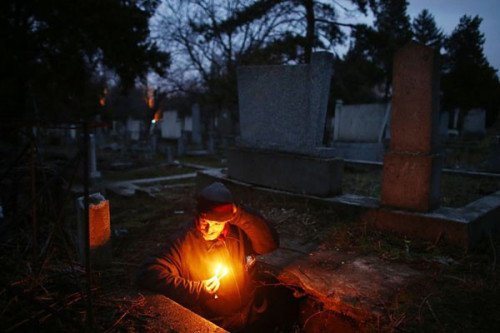 A homeless man was found sleeping in a cemetery where he had been for 15 years. Bratislav Stojanovic settles down every night with the remains of former residents of Nis, in south Serbia. Living in a graveyard for 15 years is strange enough, but stumbling across Stojanovic of an evening must be extremely weird. He admitted taking steps to minimise shock for others: "Whenever I want to crawl out I first check if there's someone around, otherwise I could scare a person to death," he said.
10.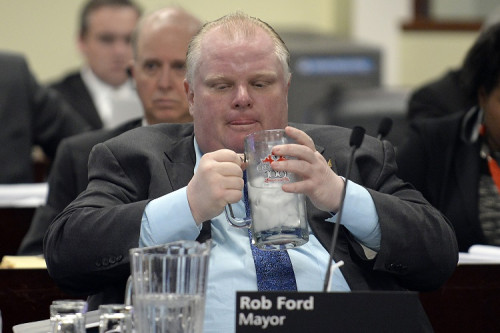 After the rollercoaster year Rob Ford has had, it seems weird he is still Mayor of Toronto. Yet smoking crack cocaine and making a semi-lewd comments about women - including his wife - have failed to depose Ford. Weirdly, the heavy-set Mayor's popularity ratings actually went up after he was caught chuffing on a crack pipe. Ford then proved politics is far from boring and ended the year by dancing to Bob Marley in the council chamber, after attempts by fellow senators to have him stripped of powers.
11.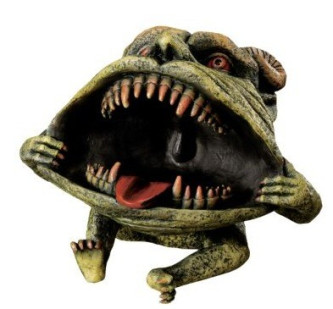 Kids can invent many excuses for not attending classes, but claiming your school has been taken over by goblins takes some beating. Yet that is what forced the closure of four schools in the country ruled by Robert Mugabe. Tribal elder Malachi Masuku reported spooky noises and strange objects inside the buildings. He told local media: "This is a sign people are still practising witchcraft. They are raising evil spirits for purposes only known by them."
12.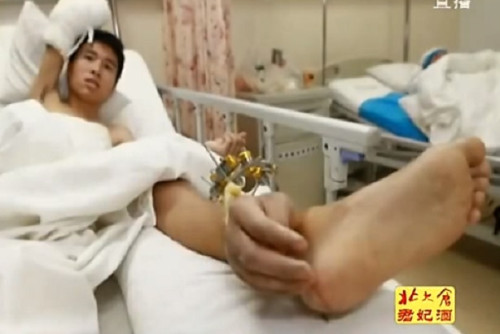 In China, surgeons stitched a man's hand to his ankle. But this wasn't a case of a disastrous lapse in concentration by an expert who got arms and legs mixed up. The eye-catching graft was to keep the hand alive after its owner Xiao Wei's arm was crushed in an industrial accident. Stitching the extremity to the ankle meant it could get a blood supply via leg arteries. And if Xiao gets an itch while laid up in his hospital bed, then it's perfect.