Piers Morgan has said he was "delighted" when he heard about American star Meghan Markle's engagement with Prince Harry. In a candid narrative, the Good Morning Britain host opened up about his friendship with the actress – which blossomed over direct messages on Twitter and his love for her hit TV show Suits.
Writing for the Daily Mail, Morgan talked about the time when he met the "highly impressive" Markle at his local pub in London. And if his words are any indication, his first impression of the actress was that she was "fabulous, warm, funny, intelligent, and highly entertaining".
It all started on social media, where Markle sent a friendly "hello" after the 52-year-old TV host started following her on Twitter.
"Well hello there, thanks for the follow," Morgan says the 36-year-old actress wrote in a direct message to him, adding, "Big fan of yours!" A self-confessed fan of Markle's famous legal drama, the TV personality explained how they started exchanging messages in the following months about plotlines and early links to the episodes.
After a year, Morgan said that he finally met the actress – when she travelled to London to watch Wimbledon – for a date that he describes as "strictly platonic".
"I'm in London for a week of meetings and Wimbledon. Would love to say Hi!" Markle messaged him in June 2016, to which the British journalist reveals he responded, "Fancy a drink in my local pub?"
The two engaged in some fascinating conversations about Markle's bi-racial upbringing, political issues in the US, her thoughts on women rights and her acting career when they finally caught up at the pub in West London.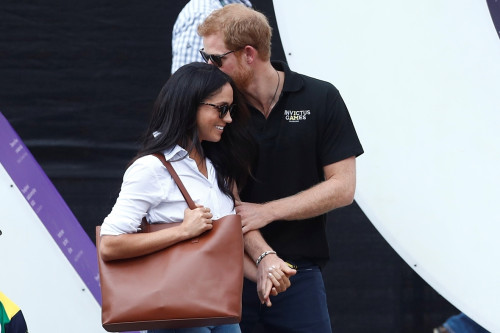 It was around the same time, Morgan believes that the actress might have started seeing Harry, as he recalled how Markle blushed after receiving a flurry of text messages. Following their meet-up, she was even scheduled for a dinner party at 5 Hertford Street.
"It must have been THAT dinner party at 5 Hertford Street," Morgan said talking about reports of the couple's romance in the subsequent months. "And those flirtatious texts she received in the pub, I'm pretty certain, were from Harry."
Now that the couple is engaged and set to tie the knot in the coming year, the British host is "delighted". "I congratulate them both on their engagement," he added.