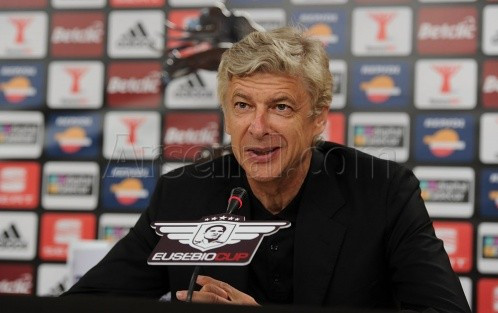 Arsene Wenger has taken a range of positives from Arsenal's loss to Olympiakos last night, with the Gunners manager insisting that the younger members in his squad have shown much promise.
Robin van Persie and Theo Walcott didn't even make a mention on the bench, while youngsters Ignasi Miquel, Alex Oxlade Chamberlain and Francis Coquelin were given chances to prove their worth on the pitch.
And while Arsenal were defeated 3-1 in the match up, Wenger believes that with more experience, the younger players will be able to grow and stand up with the Gunners' best as the season carries on.
"It was a fantastic experience they realise what intensity that you need at this level and some young players have shown good things," he told reporters.
"But there was a bit of lack of experience and maturity in midfield where you need to hold the ball better when we were under pressure.
"We had the early chances, but Olympiakos played a very committed game and made a good battle.
"We lost too many balls in the first half and overall became a bit insecure.
"We could sense there was something more at stake for Olympiakos than us, and that made a difference.
"Overall Olympiakos deserved to win, but unfortunately for them it is not enough to qualify."
Arsenal had not only qualified for the next round of the Champions League before the match; the side had also shored up top position in their group. And after a particularly shaky beginning to the season, in which the Gunners had their worst start in over 50 years, the club were relieved to be the first English club to know that they would be playing in the final 16 of the tournament.
Wenger had good reason to rest his big stars last night, with Everton to play this weekend, followed by a showdown with title leaders Manchester City at Etihad Stadium. The club are currently on a fantastic run in both the Premier League and Europe, and are hoping to keep that form up until the business end of the season, despite facing losing Gervinho and Marouane Chamakh to the Africa Cup of Nations in January.