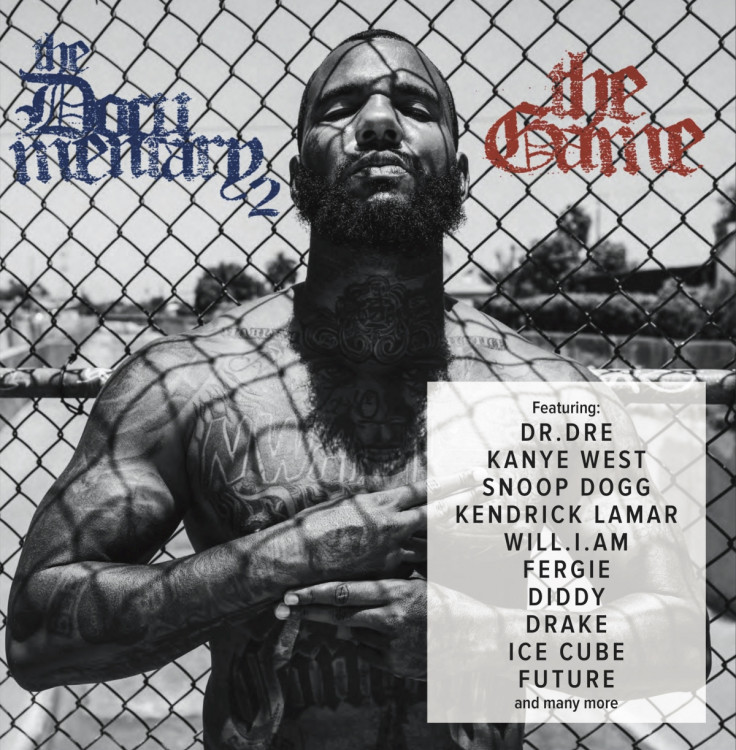 It has been 10 years since The Game introduced himself to the world via his multi-platinum selling album The Documentary. Considered one of the most consistent artists in rap, his body of work has never failed to ignite excitement amongst both hip-hop and wider music fans alike, and that continues with The Documentary 2 and The Documentary 2.5. He is still aggressive. Still honest. Still overly generous when it comes to name-dropping in his raps.
Cinematic and gritty, The Game's new album – essentially a double disc set but each disc released individually a week after one another continues the winning streak West Coast rap has had this year. First there was Kendrick Lamar's stunning To Pimp A Butterfly, a witty, poetic and politically charged follow-up to 2012's Good Kid, m.A.A.d. City. Then there was the N.W.A. biopic, Straight Outta Compton, a movie that stormed the box office and told the tale of one of the most powerful groups in music. Following that, Dr. Dre's Compton, quite possibly the most anticipated album in hip-hop history, it painted a picture of life on the left coast while reminding people that Dr. Dre is without doubt one of the best producers to ever step into a recording studio.
Playing several roles throughout, there's an obvious growth in the 35-year-old's maturity on his latest offering. No longer solely an aggressor – although there's no mistaking his forcefulness on tracks like the Dej Loaf assisted Step Up and Bitch You Ain't Sh*t – the former G-Unit rapper, whose real name is Joycean Taylor, has a certain finesse to his game now. At times charming – most notably on Dedicated where alongside Future he promises to come to the aid of his ex-girlfriend and child's mother whenever she needs him – his leadership skills are what stand out most. Ushering in a new wave of artists, on My Flag/Da Homies and Moment of Violence he leads the charge with a gang of new names.
Also stepping up his lyrical content, over the booming drums and scratched sound bites (courtesy of DJ Premier) of the album's title track, he spits: "I've been rapping for 12 years, 6 months, 16 days/ Now I'm a veteran, spit a 16 sixteen ways/ Sixteen in a clip, spit it 16 ways/ I know six teens, pull up to a sweet sixteen and spray/ I'm like sixteen Jay's but the beat I can manage/ So every sweet 16 is like Duke and Kansas."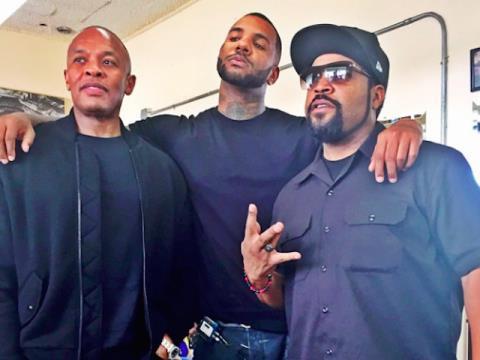 Unknowingly challenging listeners not to shed a tear when listening to Last Time You Seen, any self-respecting hip-hop fan invested in the culture for the past 20 years will struggle not to fall victim to The Game and Scarface's moody and ultimately reminiscent rhymes about fallen rap icon Tupac Shakur. Over some delicately sinister instrumentation and Stacey Barthe's lurking background vocals, The Game asks, "When was the last time you seen 2Pac?"
Album stand-outs include the Drake featured 100, a mesmerising number with a syrupy undertone that focuses on keeping it real, then there's From Adam, with Lil' Wayne on hook duties this one retells the story of how The Game got shot in a home invasion, and of course there's album opener On Me that hears the rapper and Kendrick Lamar spit over a dark yet breezy flip of Erykah Badu's beautiful On and On.
With half of NWA reuniting on Don't Trip, Dr. Dre, alongside Ice Cube, gives producer will.i.am the opportunity to dip his toe back into the world of gangsta rap – Will's first record deal was with Eazy E at the age of 17 – while Busta Rhymes returns for a second bite at the cherry lending his vocals to Like Father Like Son 2, a sequel to the original he and The Game did on the 2005 version of The Documentary.
While both discs are packed tighter than a rush hour tube carriage with guest features it doesn't feel like a disguised compilation album. It's more like The Game did his homework. Not just picking the biggest names in rap – although let's be honest, there are quite a few of those on the album - for every Nas, Diddy and Drake, there's a Sonyae, Deion and Anderson Paak.
Our verdict
Stamped with various influences that bleed through a concrete canvas, both The Documentary 2 and 2.5 have rich musical pallets. Combine this with The Game's ever growing lyrical capabilities, obvious love of music, wise-cracking punchlines and fiery delivery and this could be his most defining piece work to date and a worthy sequel to the album that put him on the map in the first place.
---
Will Lavin is a Hip Hop Music & Lifestyle Specialist of 10 years. A 2015 IMC Award winner, he's written for publications such as VIBE, XXL, Complex and Blues & Soul. He's worked with artists such as Chaka Khan, Timbaland, will.i.am. and Chris Brown. He also runs illwill.co.uk.
---